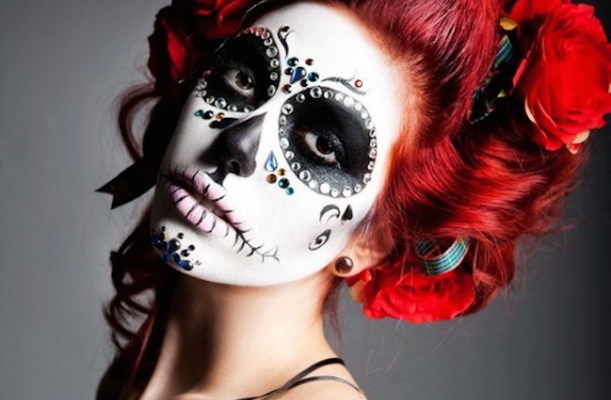 feedinspiration.com
Beauty
Three Easy Halloween Make-up Ideas
By
|
Need Halloween inspo but not into the gory, fake, blood, zombie look?
Here are three great Halloween looks that you can easily do on your own, using just 4 makeup products (and all under $80!).
What you'll need : White gel eyeliner, black gel eyeliner, blue gel eyeliner and red matte lipstick.
SUGAR SKULL
The classic Mexican Day Of The Dead look is ideal for Halloween. The bright blue colour adds a softer and more artistic look.
The Application:
Start by covering your entire face with your white gel liner using a sponge applicator, let it dry.
Draw the outline of your eyes, nose, lips, cheeks and jaw with your black gel liner then fill in your eyes and nose using the same black liner.
Still using your black gel liner, draw the petal around the eyes and chin and fill in with your blue gel eyeliner.
To customise your look ,add extra details like dots, flowers, jewels or spiders web (as shown in the above pic). You can even add other colours for a more festive look.
Tip: If you're running low on time or not sure if you can make both sides symmetrical, just complete one side of your face and make it a half Sugar Skull, half human look!
POP ART WOMAN
This Halloween look a lot of fun. It's super easy to achieve and looks so great in photos, you can actually look like a pop art cartoon of yourself!
The Application:
Start by using your black gel liner to fill in your brows, don't be afraid to go bold and add some character to them, try slight upward flicks in the inner corners.
Line both top and bottom lids with your black liner, then under your right eye draw the outline of a tear. Fill in with blue gel liner.
Next, using your black liner, line the bridge of your nose, lips and jaw.
To create the white dots, dip the non brush end of your makeup brush into your white gel liner and place rows of dots over your face. If you want a more dramatic look, continue the dots over your neck, décolletage and even your arms.
Finish the look by filling in your lips with red lipstick and dab a little white liner to your bottom lip to create the illusion of shine.
CAT
Not one for going over the top when it comes to dress ups? Why not go as a fierce feline? It's subtle and super quick and easy.
The Application:
Start by lining your eyes with your black gel liner. Don't forget to add a catty flick on the outer corners.
Next draw and fill in an upside-down triangle on the tip of your nose. Draw a line going from under your nose to your cupids bow and line your lips.
To create the whiskers, draw a few dots above your top lip, then starting above the outer corners of your mouth, draw on your whiskers, fanning outward.
Finish the look by popping on your red lipstick and outlining your lips with your black gel liner.
There you have it, three simple yet very effective Halloween looks.
Enjoy the Halloween festivities xx
Want more? Like us on Facebook, Instagram, Twitter and  Pinterest for daily posts and upcoming news.
Comments