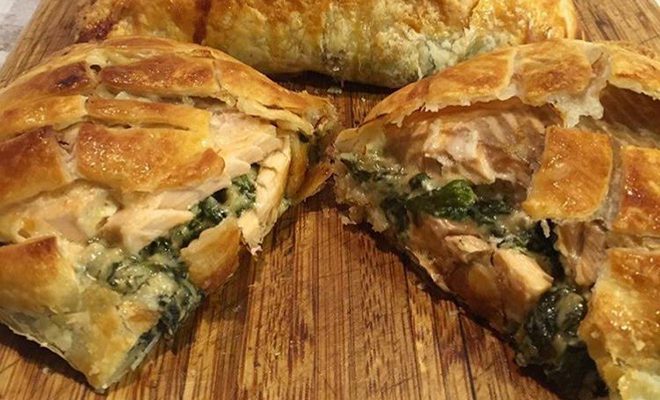 Mind and Body
The health benefits of salmon (and my famous Wellington recipe)
By
|
If you haven't jumped on the salmon bandwagon yet, then please, take today's recipe and get on board!
Did you know that salmon is an excellent source of:

vitamin B12

vitamin D


selenium
It's also a good source of: niacin, omega 3 fatty acids, protein, phosphorus, vitamin B6, choline, pantothentic acid, biotin and potassium.
Wow, i'm puffed after that list. The bottom line? It's got the good stuff. Just like my pomegranate salad recipe, this one is easy to make and healthy for the whole family.
Healthy Oven Baked Spinach & Ricotta Salmon Wellington
Please note: I have made the crust pastry out of Amaranth and Soya flour as a healthier alternative.
1) Mix 1 cup of low fat ricotta and 500g of fresh baby spinach together in a large bowl.
2) Add 1 teaspoon of fresh copped garlic, 1 teaspoon of sea salt, dash of cracked pepper and 2 tablespoons of lemon juice.
Leave aside.
Pastry:
3) Mix together 2 cups of soya flour, 1 cup of Amaranth flour, 3/4 cup of coconut oil and 1 tablespoon Nuttelex olive butter.
4) Add 2 eggs and mix altogether well until a dough like texture.
5) Roll out thin with a rolling pin and place a skinless salmon portion on top of the pastry with the ricotta and spinach filling on top of the salmon.
6) Cover with the soya pastry and place in the oven for 45 mins on 180c and ENJOY!!!
Remember:
If you're buying fresh salmon, make sure it smells fresh and of the ocean.
Avoid dry pieces
Frozen salmon can be just as good, if they are vacuum sealed.
Cooked salmon can last up to three days in the fridge.
Try my wellington and let me know how it goes!
Keep up up-to-date with daily posts and upcoming news by following The Merry Go Round on  Facebook, Instagram, Twitter or Pinterest.
Comments