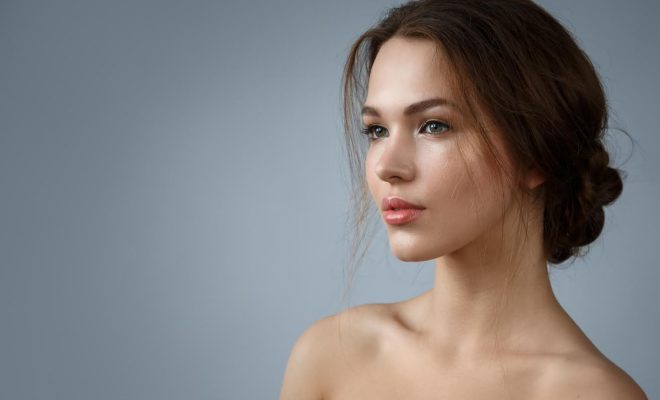 Beauty
5 steps to dewy skin
By
|
We perceive healthy skin as a sign of youth, vitality and beauty. We may not all be blessed with the genes of Angelina Jolie, but if you have that radiant, dewy glow going for you, you can feel just as beautiful – and you can guarantee others will be eyeing you up differently too. Today's post is all about how to get your dew on, so without further a-dew (see what I did there?), let's get dewy:
Step 1. Prep your skin

Two secrets to a clear, luminous and dewy complexion are alpha hydroxy acids (AHAs) and beta hydroxy acids (BHAs), which you'll find in a variety of professional skin care products for salons. AHAs are derived from fruit sugars and great for wrinkles and reducing the signs of ageing. BHAs, while similar to AHAs, are lipid-soluble rather than water-soluble, making it a great treatment for acne, clogged pores and pigmentation. Both acids exfoliate and renew the skin without the need for harsh scrubs and exfoliating beads, but be sure to always wear SPF sunscreen when using either of these products, as they can increase UV sensitivity.
I love: AQUAFUSE Foam Peel by Bio-Therapeutic.
Step 2. Drink up!
No, not wine, unfortunately. Water! We know that our organs need water to function properly, and our skin is our biggest organ of all. A lack of water denies our skin of proper cellular nutrition, which can lead to dryness, dullness and more prominent wrinkles. So it's a no-brainer that drinking plenty of water contributes to a healthy glow. And now I'm going to get enviro-nerd on you and also say – stay away from plastic bottled water! Not only is plastic waste a huge problem for our environment, many plastics contain bisphenol A (BPA), a chemical that can be toxic in large doses. Instead, invest in a non-toxic stainless steel water bottle. You'll save money in the long run, help the environment, and get glowy all at the same time. Yay!
I love: Mizu and Earth Bottles.
Step 3. Illuminate
For dewy-faced darlings, an illuminator should always be present in your makeup kit. Illuminators, or highlighters, can come in cream, powder or liquid form and work to brighten up your complexion, reflect light to enhance key facial features, and of course, create an instant dewy glow.
I love: This video tutorial on where to apply illuminator.
Step 4. Get spritzy
Finishing sprays are used to set makeup in place throughout the day, while simultaneously working to freshen up your complexion for a healthy, dewy glow. There are oodles of finishing and setting sprays on the market that offer different ingredients and botanicals to make your makeup last for the long haul; but you also can't go past good old rosewater, which doubles as a makeup setter and a hydrating facial mist for an instant pep-me-up any time of day.
I love: This video tutorial on making your own rosewater spritz at home.
Step 5. Oxygenate!
One of the ultimate celebrity secrets to radiant, dewy skin on the red carpet is oxygen facials! This is the process of using pure, chemical-free oxygen and nourishing skin infusions to detoxify skin cells, hydrate skin to reduce the appearance of lines and wrinkles and plump up dull, stressed-out complexions for an invigorating, youthful glow. It's my ultimate go-to facial treatment for looking fabulously flawless before a big event; and best of all, results are both instant and cumulative – so if you buy a package of oxygen facial treatments, you can stay deliciously dewy-faced all year round.
Get it: Find an oxygen facial machine near you by calling The Global Beauty Group on 1300 006 607.
For more of Brittnay's posts, click here
Keep up up-to-date with daily posts and upcoming news by following The Merry Go Round on  Facebook, Instagram, Twitter or Pinterest.
Comments