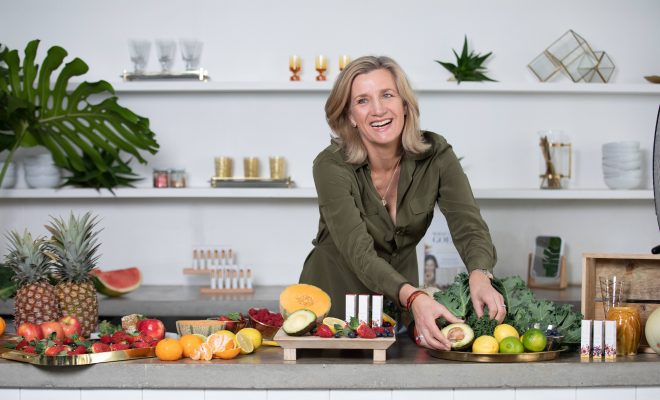 Beauty
Pencil this in- the lips you want!
By
|
It's the lip pencil you can't misplace because it's chubbier than any you've had. It goes on with such a smooth finish you don't even need to blot! Want all day colour, no crease? Want all day wear, no touch ups? Want to smell luxurious and light up a room with your smile? Look no further, get out your phone and be ready to tap! These Luk Lip Pencils are everything you need and a little more – they come with their own sharpener that handles their size and doesn't damage their lip stick lead. The range of colours caters to day time, night time and all the times in between. I layered mine and made a hybrid colour that was divine.
Another perk, they blend together in any way you like, you can quite literally design your shade to suit your mood. This transcends the norm where one colour cancels another. These pencils work together. When you want to feel like a queen – this is the lipstick for you, as you glide the shade of your choice on, relishing in the coconut oil goodness that it's packed with, take a moment to congratulate yourself – this lip stick is all natural and free of any chemicals.
I was honoured to sit with Cindy Luken, founder of Luk Beautifood and get the low down on where this amazing brand is taking their future so I can be prepared and so can my phone – when the time comes, to buy the newest instalments in this amazing range.
You've made a cake-free and long-lasting lip crayon which we absolutely love! What inspired the range and how does it compliment the other products in the Lük Beautifood range?
That's great news! In 2019-20 I responded to the needs of the market and our customers. I could see we needed to go further than having 100% natural, clean and toxin-free lipstick formulations packed in recyclable boxes and printed with vegetable inks. We also wanted to offer a product that was low waste, zero or no plastic and have a small carbon footprint. In Europe, so many companies were focused on reducing their carbon footprint, in Australia there was little conversation. I know it's hard to believe as it is only 3 years ago, but now listen to the conversations and look at the powerful actions of everyday people making sure Australians care better for our environment.
This desire to create an environmentally friendly product combined with our customers wanting a high pigment, full coverage and longer lasting lippy meant the opportunity was ripe to create a creamy soft formula that doubled as a liner and lipstick contained in a non-plastic, sustainability grown (aka made with renewables) wooden casing. It's also super versatile, designed to be used as a lipstick, the crayon can be left matte or overlay Lip Nourish™ to add shine, it can also be used to add colour to your eyes and cheeks.
The range slotted in perfectly with Lip Nourish and our plans for future products as the ingredients are 100% natural origin, plant based, certified Vegan, Australia and Peta Approved and come in a palette of nude and neutral shades to create the Lük signature healthy natural look with minimal effort.   
In terms of size, why was it important to make the crayon larger and 'chubbier' than traditional options on the market? Does the size provide any unique benefits?
I think the shape comes more from my blinkered approach to what other brands are doing. My philosophy is 'no makeup, makeup' as I and my customers are not beauty junkies and follow trends, we simply want beautiful products that are practical, good for you and the earth and don't sacrifice style.
I simply create products that tap into the innovative processes and ingredients available and combine this with what our customers would love and respond positively to.

Therefore, a thicker sustainability grown wooden 'pencil casing' without lacquer that had a bigger 'lead' to easily transfer colour and coverage was my goal. And the longer length provides great value as they last for ages.
Your crayons are 100% natural. What are some of the ingredients used and what makes them so special?
That's right and we are especially proud that they don't contain any synthetic dyes and colorants. One of the key ingredients is organic coconut oil abundant in linoleic fatty acids, it has as relatively low melting point and thus, provides the slip for the crayon to glide on and deeply nourish lips, prevent drying and soothes any cracking or swelling.
The formula contains spherical silica from natural quartz mineral, this imparts the beautiful soft-focus effect and gives body and a base for the colour pigments to be evenly dispersed. It also contains the active ingredient gamma oryzanol with antioxidant properties that protect the lips from oxidative stress and photo-ageing. Natural Vitamin E is added to protect and help heal lips and the base formulation has natural plus emollients that soothe and soften the skin.
For those unfamiliar with lip crayons, what skin tones best suit the available shades? Do you have any application tips?
Our range is really easy to be comfortable with as there are 4 nudes that come in easy wear shades which means the shades suit most skin tones, it really depends on what your natural lip colour is and your preference to the depth of shade and nude tone – ie a pink v's brown or coral. It's normal to wear nude a shade lighter or deeper than your natural lip colour. At the moment, Caramel Kiss & Lychee sorbet are our most popular 2 shades.
My best tip is making sure you have a 10.5mm sharpener suitable for soft leads and keep the crayon well sharpened for easy application. Also keep the crayon under 25C.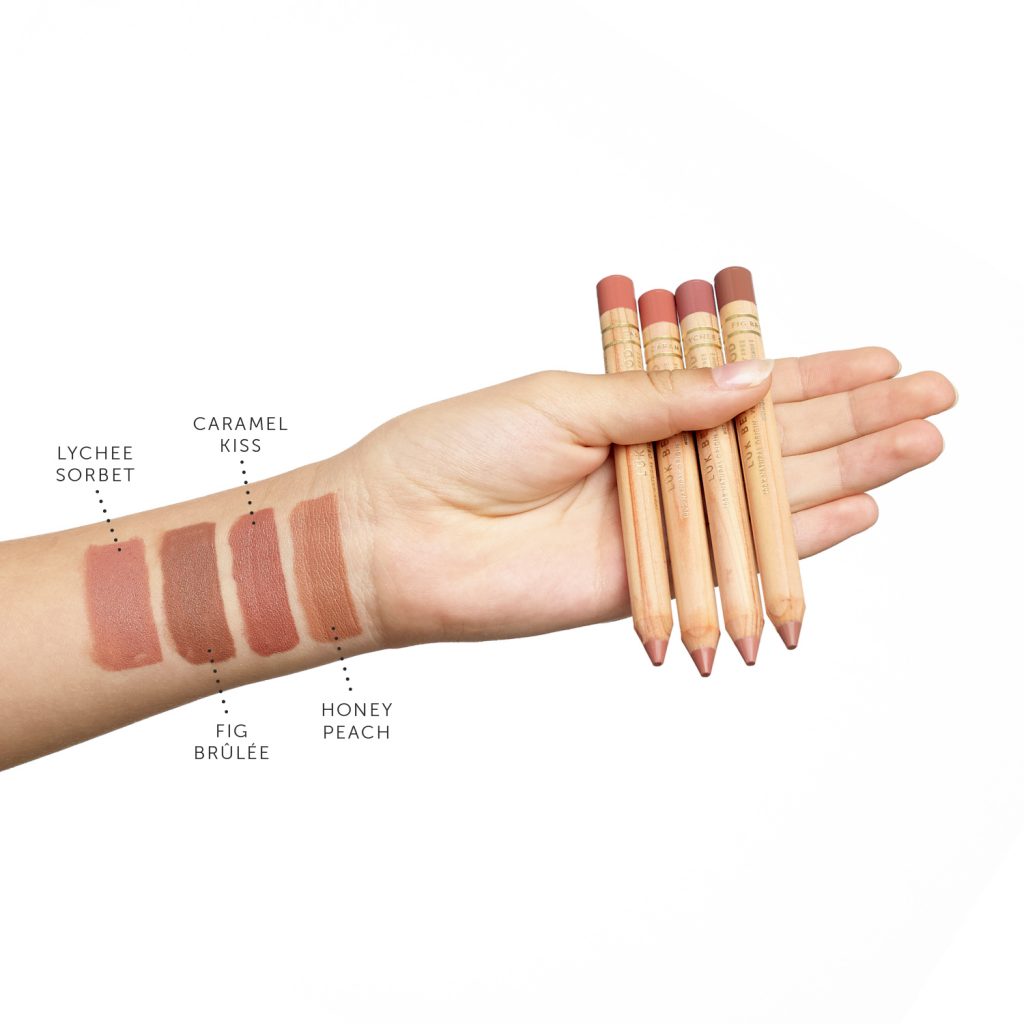 You come from a food science background. How does this inspire you and the products you create at Lük Beautifood?
As a food scientist, I understand ingredients and how they perform and what their nutritional and functional benefits are.
When I started formulating the first lipstick back in 2008, I applied my philosophy to the beauty industry as it was in a similar position to where the food industry was in the 80's and 90's: that is, using over processed ingredients that no longer resembled the original source to drive down price and increase margin at the sacrifice of the shopper's health.
It was beyond me that makeup was made from synthetic ingredients, everything – oils, waxes, fragrance, colours, preservatives and even actives where all man-made and almost always petroleum derived. It did not make sense as good health and wellness was about looking after your whole body. This was exacerbated by the fact that lipstick is eaten and goes into your digestive system so creating a 100% natural lipstick made from food was a pretty good place to start.

It was a no brainer, I was totally inspired to 'revolutionalise' how make-up was made.
We see that Lük Beautifood is growing its delicious range of products. What's next for the brand in 2022 and beyond?
We have 2 coming to our new range in the next few months and the most beautiful Christmas & Holiday themed gift collection, Merry Deliciousness.
The first in the new range is 100% natural Lash Nourish Mascara in Espresso & Black Tea designed to give you healthy full lashes. It is a clean, buildable mascara that will strengthen and separate lashes without clumping to open eyes for a fresh, natural look. It's a synthetic-free balmy formula powered by nourishing plants oils, Vitamin E and nutrient actives in cucumber, argan and avocado, green tea and coffee bean extracts plus silica-rich bamboo to support natural lash growth by conditioning and hydrating lashes allowing them to breathe and not dry out and break. It has an hourglass shaped super flexi rubber brush that finds lashes you did not know you had and make application super easy! 
The second launch is ground breaking: Instant Glow Tinted Complexion Balm, a 100% natural tint powered by 5 botanical skincare complexes and nutrient actives that blend seamlessly into your skin leaving an even, fresh complexion that looks like your skin on its best day!  It's all about skin hydration, nourishment, correction and protection in a sheer to buildable foundation. Oh and the airless pump tube is made eco responsibly from biobased plastic (renewables) with a removable and recyclable PCR pump and lid which equals low carbon footprint.  
Both collections are made in Australia and have taken nearly 2 years to create.
There are and always will be more new products in the pipeline. Simultaneously our driving force is the successful implementation and management of The Lük Modern Beauty Standard, a 24-step initiative that serves as a roadmap to guide all areas of business operation by ensuring full ingredient transparency and product safety, improved customer experience and cultural representation, reduced plastic waste and carbon emissions, greener energy consumption and responsible manufacturing, more impactful community-led campaigns, and greater award and industry certifications.
Where I really want to spend my time is increasing where are products are sold so more people can experience our beautiful products. We are ready to start selling in the UK and EU as our products are now registered and in America, we have such lovely customers like Canyon Range Spa and Wildcraft. As our products are so deliciously multi-sensory it's great to try and buy instore and replenish online.
So there you have it, treat your lips like the stars they are and adorn them in a Luk lip stick – you will not be disappointed.
Comments