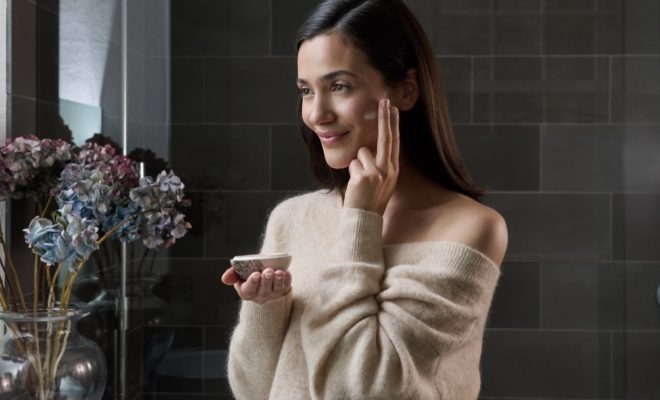 Beauty
Ewe Beauty! The luxury skincare range worth adding to your beauty regime.
By
|
Meet Grandvewe, a family owned and operated Tasmanian farm, who has just launched Australia's first-ever home compostable luxury sheep milk skincare brand, Ewe Care.
Housed in refillable and handcrafted ceramic vessels, the morning and evening skincare creams contain locally harvested Awassi sheep milk, an untapped beauty ingredient traditionally reserved for cheesemaking.
We sat down with Co-founder and executive director, Nicole Gilliver, to find out more about the history, the sustainability, the juggle of working mum life and of course, their new skincare release.

Tell us about Grandvewe and what makes your Tassie farm so 'ewenique'?
Grandvewe Farm was founded some 20 years ago in the pristine Channel region in the South West of Tasmania. It was the first sheep dairy in Tasmania and was set up under a set of values pertaining to poly culture and organics back when these types of small unconventional agricultural enterprises were sneered at by rural conventionalists. To a large extend the initial farm philosophies related to organics and polyculture have informed and continue to inform how we innovate and evolve as a business today. What was once sneered at is now a thriving, cutting edge hub of innovation in an agricultural and manufacturing sphere giving light to exceptionally unique ideas of exceptional quality. One could easily link this back to environment and where we exist as they are directly responsible for 'why' we exist. As custodians of a unique part of the planet in a unique region of the Island State of Tasmania / lutriwita we are inspired to harmoniously innovate by the environment in which we live and work.
Grandvewe farm is home to a number of family owned and operated brands. Can you tell us more about them?
Grandvewe Farm has facilitated the the evolution of not just a farmhouse sheep cheese business, but also Hartshorn Sheep Whey Distillery and more recently, Ewe Care.
Grandvewe Cheeses is now the second largest sheep dairy in the country and the second longest still in operation. Grandvewe has been the recipient of many awards over the years and most recently was awarded Australia's Best Sheep Cheese in the London International Cheese Awards and also a World Dairy Innovation award for its Gin Herbalist – a cheese that provides whey to Hartshorn Distillery which in turn provides waste botanicals post distillation to flavour the outside of the cheese.
Grandvewe Cheeses has built a pedigree around innovation that has continued to heavily influence the other two more recent offshoots of Hartshorn Distillery and Ewe Care. Grandvewe was the first, and is still the only licensed cheese factory in Australia to be permitted to operate as a 'dry floor' factory. This means that where most factories waste water on cool down and clean up (this often equates to many 1000's of litres per day even in small factories) Grandvewe has zero water waste associated with its cheese manufacture. This is entirely unique in Australia and has multiple benefits.
1. It reduces bacterial loads in the factory ensuring a greater hygiene outcome.
2. It greatly reduces risks of tripping and falling and less moisture ensures a better OHS environment for our staffgenerally.
3. We exist on tank water only. If it does not fall from the skythen we do not have it.
4. Any of the small amount of waste water produced is treated on site and goes straight back on the paddocks.
Hartshorn Sheep Whey Distillery came in to existence in 2015 as a means of solving our biggest waste problem which was also becoming our biggest cost problem and turning it into a profitable value add entirely based on the values that had become enshrined in the DNA of the family business.
In 2018 Hartshorn Sheep Whey Distillery was awarded the title of World's Best Vodka at the World Drinks Awards in London beating out behemoths such as Grey Goose, Belvedere and Ciroc. To this day Hartshorn is still the only distillery in the Southern Hemisphere to have held this title and still the smallest distillery ever to have won such an illustrious award in the heavily coveted Vodka category.
Recently Hartshorn released three new botanical vodkas (Finger Lime, Strawberry Gum and Salt Bush) that sit happily alongside our Original Sheep Whey Vodka, Australian Botanical Gin, Oaked Vodka and Peat Smoked Vodka. Hartshorn is endeavouring to change the conversation around vodka and educate those who are willing to understand that Vodka can be so much more than a neutral spirit whilst staying true to its brand values of unique Tasmanian provenance and sustainability. All Hartshorn spirits contain ONLY rain water captured on farm.
Ewe Care is the most recent addition to the EweniqueEnterprises stable and again exists to innovatively value add to our sheep milk operation whilst adhering to the values of the origins of the business.
In 2018 Grandvewe Cheese moved away from a farmhouse cheese business model to an artisan cheese model. This meant that Grandvewe farm was no longer the primary milk source. Instead we fostered relationships with two families to embark on a partnership of milk supply. When the new season milk arrived, it was deemed to be marginal for cheese making and thus we had another problem to solve. With more than a decade of experience in understanding the inherent benefits of sheep milk for the gut microbiome, we decided that we would investigate sheep milk's topical benefits for the skin micro biome and explore this as a possible opportunity to solve another problem whilst still adhering to our values.
Ewe Care is Australia's first-ever luxury skincare brand containing sheep milk. What makes this ingredient particularly beneficial as a topical beauty aid?
Sheep milk contains a multitude of beneficial ingredients for skin conditions, skin repair and hydration. It is a super nutrient dense natural ingredient containing the most amount of fats, proteins and minerals per litre than any of the other major milks. Some of these ingredients have been scientifically proven to reduce redness and inflammation and even reduce scarring.
Sheep milk's topical benefits are being rediscovered due to the ingredient's high levels of lactic acid, an alpha hydroxy acid, and antimicrobial A2 proteins, as it aids in the reduction of fine lines and wrinkles and hyperpigmentation.
Sheep milk is also rich in vitamins in A, B, C, D and E, including a host of minerals, proteins and essential fatty acids for skin sustenance and protection.

Ewe Care also contains a number of botanicals native to Tasmania. What are they and how do they support healthy skin?
Ewe Care combines the nutrient richness of sheep milk with a host of Tasmanian ingredients to arrive at a powerful nourishing and hydrating but most importantly, a highly functional skin care option.
Featuring a host of Tasmanian native botanicals used by the Traditional Owners of our land for thousands of years for topical skin irritations, wound healing and anti microbialtreatments, Ewe Care also contains: 1. Cape Grim water (considered to be the World's cleanest water) 2. Fucoidan Kelp only found in waters off Tasmania and Patagonia with scientifically proven benefits in skin care replenishing the skin with phyto nutrients aiding in skin barrier function. 3. Tasmanian Native Pepperberry Extract again, only found in Tasmania with proven powerful impact against redness, irritation with the added benefit of anti microbial properties
The beautiful ceramic vessels that hold the creams are such a delight to the eye! Why was presentation an important element to the Ewe Care experience?
Quite simply because beauty and self care should be an all encompassing sensory ritual. It should represent an opportunity in a very busy life to signal to slow down a little (and let's face it, a breakable ceramic item forces the point), relax and enjoy even a small amount of self indulgence. We believe that the ritual of self care starts with packaging as much as the contents. The packaging must not only deliver on promises of sustainability, but it simply must form a critical part of the ritual of slow beauty. Our Raku Ceramics are a sensory indulgence not seen in beauty packaging before and that's very deliberate! It's our view that the aesthetic elements of all beauty rituals are worthy of consideration and that extends to packaging.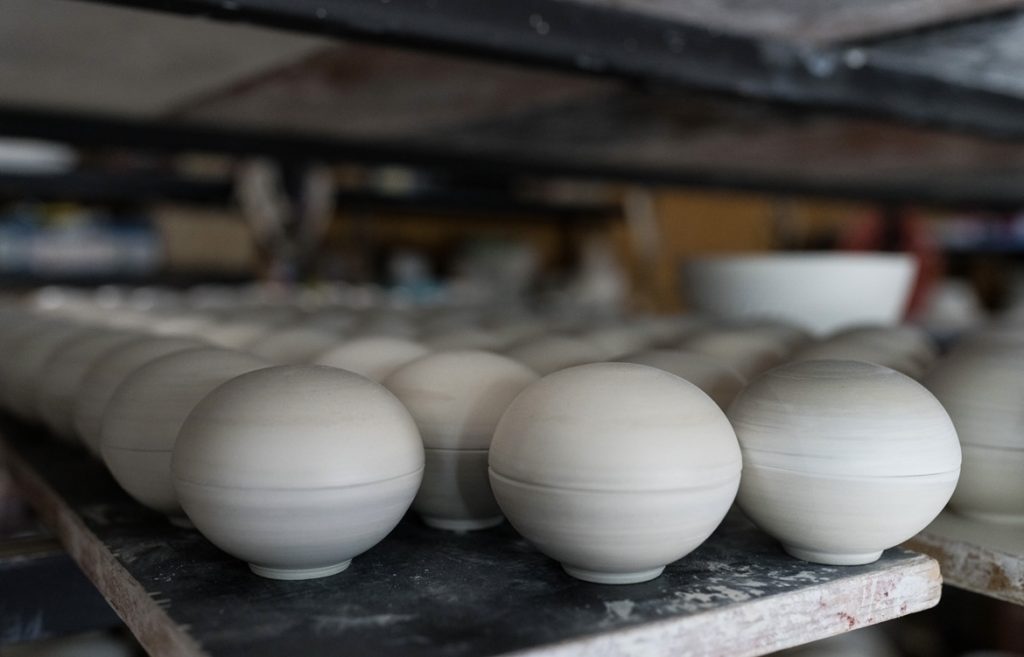 Packaging across the Ewe Care range is also home-compostable. How does sustainability and the environment play a key role in the day to day function of Ewe Care and the farm?
It's front and centre in everything we do, without exception. It's part of our mandate to innovate sustainable value addedsheep milk products that challenge commonly held belief systems. It's why we exist. It's what gets us out of bed every day!
We live on a piece of dirt that's been here for millions of years. It's an ancient land and it's something that's constantly in our stream of consciousness. Daily we are around the Earth and sun, the animals and nature, so we're always thinking about how we can leave that piece of land better than when we arrived? How can we produce something that environmentally leaves us with a better outcome?
As a mum, how do you balance work and home life?
Bloody good question!! I'm not great at it really. I think somehow, like all working mums, I manage to prioritise the kids and squish work into 'spare time', holiday (like now) and obviously regular work hours……
Problem is I really like to work, but I also really love family time. I have a VERY understanding partner which also helps especially when, like now, I need (and it's a need for me) to complete a work task. I think maybe it's because whilst my family is my absolute priority, I simply love to work and if for some reason I cant do what I feel I need to then I'm like a bear with a sore head.
What does a typical day entail for you?
There's not really a typical work day per se. That's the beauty of it really (pardon the pun). I wake up (then hopefully get to the gym). Do whatever is immediate (usually kids). Do whatever is immediate work wise (usually my other kids, AKA staff). Hopefully move on to whatever is not immediate but otherwise is requiring of being done, soon. Have something to eat at some stage (forgot that by now I've consumed LOTS of caffeine). Have a meeting or two, some phone calls (hopefully not too many. I don't like them much. Not fond of ZOOM either). At some stage, I go home and do the usual home stuff then bookend my day by tying up the tie able loose ends and emails. I then fall into bed (after teeth brushing AND face care!) and dream of hopefully not working on the weekend (and mentally chastise myself for not getting to the gym.
I like wine, and cider…….
Usually unwinding is exercise. Tasmania is blessed with space and clean air and it's my absolute critical unwinding strategy. Spending times with and without friends and family in the pristine Tasmanian fresh air outdoors (add food and wine and life is exponentially better!) I am fortunate enough to live on the 40acre property which has panoramic views from all aspects. If I can't physically leave to unwind then walking the paddocks is my magic antidote.

What's next for Ewe Care and the farm in the coming year?
2022 for me is all about telling the Ewe Care story and continuing the conversation of the values of Ewe Care in the beauty space. It's my goal that by the end of 2022 Ewe Care will be a brand that finds its way beyond the shores of Australia and into the bathrooms of people beyond our shores. Here's hoping there's also a little bit of travel associated with it too, finally!!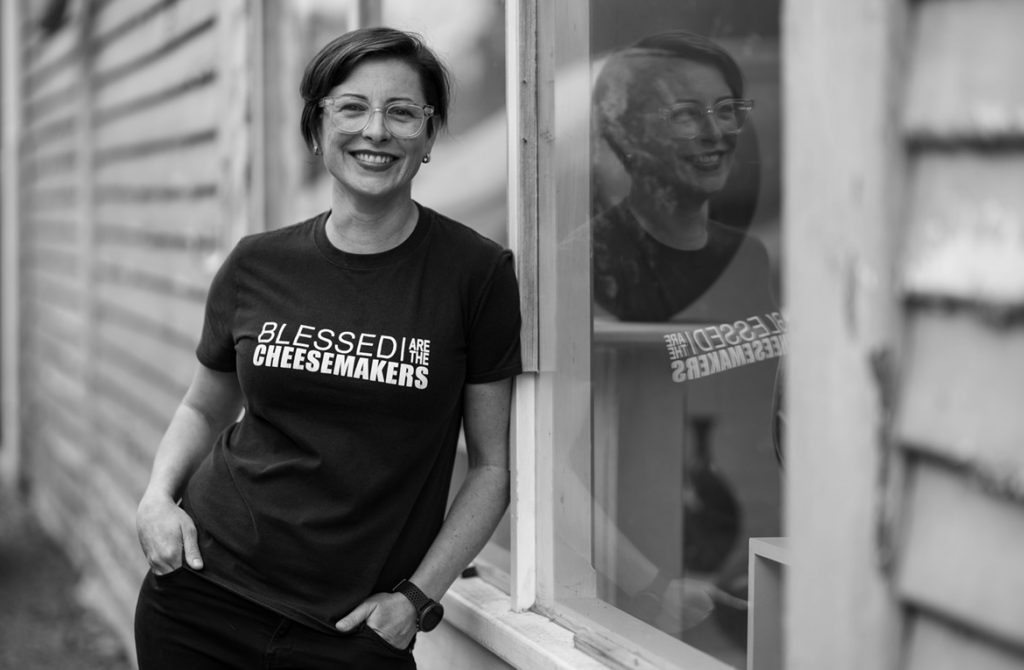 Comments