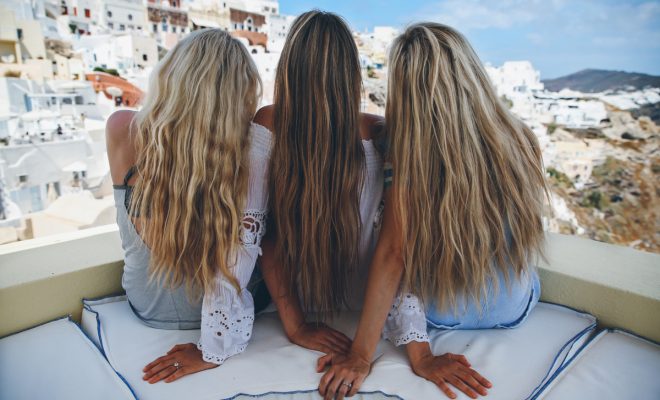 Barefoot Blonde
Beauty
How to revive your sun damaged hair
By
|
Last time I spoke  to you guys about hair trends, but today let's talk treatments!
We're officially moving into the cooler months and your locks have copped a battering. Blame it on the sun, chlorine or the salt: Summer is hard on hair.
Bring dull, dry hair back to life with some of these recommended tips and products:
A deep clean
On wet hair, massage an oil-infused shampoo like Shu Uemura cleansing oil shampoo from root to tip. This cult-favorite shampoo is available in three different formulas to suit all basic hair and scalp types. Don't be afraid to use cleansing oil shampoo on oily hair. Anti-Oil Astringent Cleanser contains yuzu citrus extract, which removes and inhibits excess oil with its astringent properties. Your hair will be left looking and feeling clean and touchable.
Tip: Mix a couple of teaspoons of apple cider vinegar with two cups of warm water and work the cocktail through wet hair before shampooing. This DIY treatment acts like a clarifier to rinse away residue. Use it once or twice every few months.
Add oil
You already know oils are the greased lightning of hair care. Kerastase Elixar Ultime  is a versatile treatment for all hair types. It has a combination of corn germ, camellia and Argan oils with the added pracaxi oil. Hair is nourished, soft, light and protected from all external aggressors. It adds a good dose of hydration and with a high heat protection and visible shine.
Gently towel-dry hair to cut down on frizz and apply just one pump (this baby's got horsepower!) from mid-length to the ends of your hair. Blow-dry or air-dry, and you're good to go.
Go easy
Brittle hair responds badly to rough handling so brush gently if your hair is tangled (and it's more likely to be if it's dry). Don't brush your hair out while it's wet as the extra weight on the strands from the water will cause it to stretch and snap. Instead wait until it's dry and use a purpose built detangling brush like the Tangle Teezer.
Restore lost moisture
A hair mask is the best way to do this. I recommend Shu Uemura Hydro nourishing Deep Treatment Masque Enhanced with Moringa and red algae extracts. It adds intense nourishment and hydration while offering protection against urban aggressors. Focus on the ends and distribute with a wide tooth comb. Let it linger for five to ten minutes and finish with a cold water rinse.
If you're going to blow dry it, finish off by using the cool shot on your dryer just before you finish, which smooths the hair cuticle in the same way as the cold water. Use a low-heat setting for hair drying and point the nozzle down, not side-on.
Hair can't repair itself so you need to put back what we have taken out. Use your mask weekly!
Chop the dead
This is an obvious one, but the simplest and most effective way of reinvigorating your hair is to cut it. Any hairdresser will tell you this and can immediately identify the length you need chopped off to to get some life back in it. Just promise me you'll trust them and not beg to keep those extra inches. They're not worth keeping!
Rinse with cool water
Rinsing with cool water seals the cuticle. I suggest doing this after every cleansing to make the cuticle lay a bit flatter so hair looks shiny and healthy, not frizzy.
Try these products and tips and you will see a difference, I promise!
Take a look at Tania's Instagram here and her past posts here.
Keep up up-to-date with daily posts and upcoming news by following The Merry Go Round on  Facebook, Instagram, Twitter or Pinterest.
Comments