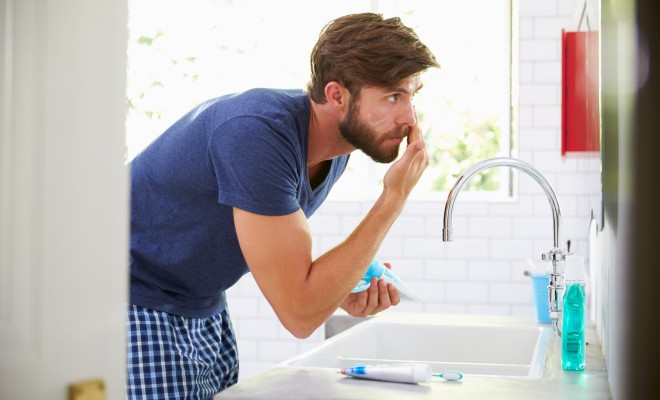 Beauty
Skincare for the modern man
By
|
This one's for the boys! Skincare Ambassador at The Global Beauty Group, Marina Juhas-Cucilovic, shares her formula for the perfect skincare routine for male skin.
The message is coming through loud and clear: men want great skin too! With the global men's skincare and grooming market climbing at a steady speed, more attention is being drawn to the specific needs of men's skin.
Is men's skin really that different to women's?
Well, not majorly so, but there are a few key points of difference to take into consideration when choosing the right skincare. For starters, men usually have thicker dermis and epidermis layers to penetrate and they also tend to have larger pores and produce more sebum (oil). And let's not forget the facial hair! Men's facial hair gives rise to particular facial skin concerns like ingrown hairs, razor bumps and burns and dryness.
6 steps to healthy, balanced skin for men
Use a gel cleanser – A gel cleanser is perfect for men's skin as it penetrates deeper into those larger pores and thicker layers of skin. It also cleanses effectively around the facial hair follicles to ensure thorough removal of dirt, oil and residue.
Buff with exfoliant – To keep the skin cell turnover active it's essential for men to remove dead skin cells as well as excess oil and rough, dry patches by exfoliating a couple of times a week. Exfoliating fights ingrown hairs, blocked pores and keeps skin looking smooth, healthy and youthful.
Tone it up – The act of cleansing and exfoliating opens up the pores to get out all the gunk, but this means we need to close those pores back up again so they aren't exposed to more gunk. To do this, guys simply need to apply a hydrating and soothing toner (avoid harsh, irritating ingredients) after cleansing/exfoliating to close and tighten pores for a smooth, fresh look.
Smooth it with serum – Yes, a good serum will work wonders on male skin and will help keep those signs of ageing at bay. But don't just grab the nearest bottle – it's important that a serum is tailored to individual skin concerns so it can balance out the problem areas (eg. seek advice for the best professional skin care brands for acneic/oily skin, dry skin or sensitive skin).
Max the moisture – Yes, gentlemen – moisturiser is a must! Opt for non-oily, ultra-hydrating moisturisers with a rich vitamin C and co-enzyme Q10 content to nourish the skin and fight signs of ageing. A good moisturiser will also act as a protector against harsh environmental factors and daily use will work to maintain balanced skin and prevent premature ageing.
Feed skin from within – Last but not least is diet. It should come as no surprise by now to mention that processed sugars and foods (such as fizzy drinks and packaged convenience/junk foods) are not friends with our skin. For healthy, handsome skin into old age – eat a diet primarily based on fresh fruits and vegetables, nuts, legumes, olive oil, the occasional portion of lean meat and omega-3 rich foods such as salmon, sardines, flaxseeds and walnuts.
Marina recommends the bt-Ceuticals™ professional skin care products. For more information and tailored solutions, call 1300 006 607.
For more of Marina's advice, click here
Keep up up-to-date with daily posts and upcoming news by following The Merry Go Round on  Facebook, Instagram, Twitter or Pinterest.
Comments