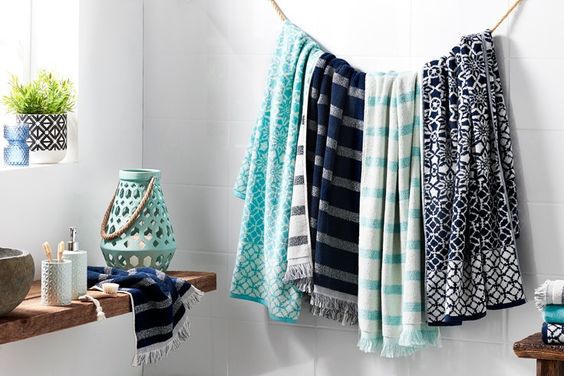 bedbathntable.com.au
Interior and Design
7 Ideas to get your Home Summer Ready
By
|
You know the clothing drill that rolls around every summer. Box up the heavy weight knitwear, fold down all your jumpers and move boots back into storage in preparation for the summer wardrobe. The same deal should go for your home. Now, I'm not saying store a summer and winter interior spread, as much as I'd like to do this. That just is not possible (for most people). Keep scrolling below for 7 easy and affordable tricks to bring a touch of summer into your home without breaking the budget.
The scent of summer
Don't ignore one of you key senses, smell can play just as big a part in creating an overall journey. Look for scents that evoke a memory of feeling. Coconut and lime reminds me of being outdoors by the water which is why it's my favorite scent at this time of the year.
A date in Morocco
I have a thing for Moroccan print but sadly our apartment does not lend itself to this trend. Fortunately, you can easily theme a dinner table setting around pretty much anything. And that my friends, is how I brought Moroccan print into my home.
Add some greenery
If you haven't noticed, I have a thing for plants and greenery. The trick to adding a potted plant to your family is to ensure you have the right type of space. Most plants need medium to high sunlight and will need to be watered more often in summer. My best tip: if the soil feels dry, it's time to water your plant.
Rainbow tuffs of goodness
Maximise and add colour to your space with a woven basket. They can be used to store pretty much anything. And if it look like Rainbow Bright in basket form then you pretty much can't go wrong. Yes, this is a nod to my favourite child hood T.V show.
Set up a summer clothes rack
The key to this statement is to keep it minimal and simple. Let each piece have the opportunity to shine and don't overload the rail.
Out with the old, in with the new
Swap over the "easy to update" pieces. These include cushions, throws, vases and even your planters. Bring summer into your home with pops of blue, crisp whites and lighter coloured timber.
Bathroom ready
As I get older my love for towels, bed linen and anything manchester has gone to a whole new level. If you fancy a quick win solution to updating your bathroom, opt for a beach theme colourway. Blues, stripes, tile print and sea side inspired trinkets are essential to nailing the look.
Want more tips to brighten up your home? Check out more of Cara's latest posts here.
Keep up up-to-date with daily posts and upcoming news by following The Merry Go Round on  Facebook, Instagram, Twitter or Pinterest.
Comments