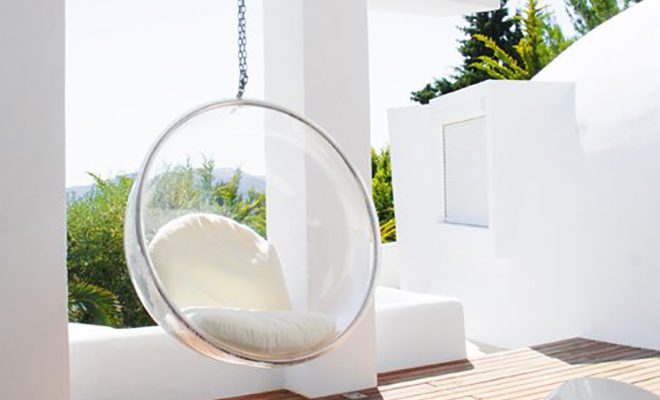 onske.co.uk
Interior and Design
7 ideas to brighten up your outdoor area
By
|
Who doesn't love being outdoors? Now that summer is well and truly here, it's time to spruce up your backyard so that you can fully enjoy the fresh air, relax in the sun and socialise outside. When styling an outdoor area, whether it be a patio, alfresco or large space you want it to be functional, welcoming, comfortable and stylish.
So, if you're ready to re-glam your outdoor area or add an alfresco, I have some great ideas to prep your outdoor space so that it is ready for those warmer days:
1.
Green up your patio or deck with some statement pots. Add some flowers, herbs or greenery to keep the space fresh, happy and pretty. My favourite décor ideas are pot clusters in similar colours and styles, I also love oversized pots for an instant impact and big statement round pots on a stand like the ones below. Cara had some great picks for pots and pouches too.
 2.
An outdoor rug brings the space together and makes it feel complete. It also adds warmth, comfort and texture to any backyard. I personally love outdoor rugs as they feel like you are in an extension of the house. When choosing an outdoor rug, try and go for one that is for indoor/outdoors. I find that they look better (as some outdoor rugs can look too shiny), it will be equipped for all types of weather and much easier to clean. Find an array of amazing outdoor rugs here.
3.
One of best things about being outdoors on a summer night is the ability to entertain or just relax under the stars. The right outdoor setting is important as you want it to look good as well as be comfortable and functional. If you have the room, go for a table and chair setting that has an extension table so that you are equipped for any gathering. If your area is a bit more compact, there are many cute three piece settings, chair swings or statement chairs that will help style your area. Check out these outdoor pieces for some inspiration. 
4.
Outdoor fire features are a popular trend this year. Not only do they look amazing, they provide a great place to gather around with friends and family.
 5. 
A stylish outdoor umbrella will not only provide you with protection from the rain and sun, but can also be quite a feature in any outdoor entertainment space. There are many outdoor umbrellas that come in various shapes, colours and sizes, so you are sure to find one that will suit your area. Here are some I found for a great price. 
6. 
One of my favourite décor pieces to include in any outdoor space would definitely be a hanging egg. They are stylish, luxurious and make a statement. They are also fun and comfortable. Read a book or just simply relax and take in the freshness around you whilst lounging in one of these.
7. 
Lights can brighten and add style to any outdoor area. Set them around paths, steps and sidewalks. Candles can also make a great impression.  Outdoor lighting not only looks great; it produces a lovely mood lighting for any occasion. They also double as a safety feature at night.
With so many designs, furniture and décor options available, you are sure to find pieces that will suit your space and style.
Enjoy creating that outdoor area space your family and friends will love.
Want more? Like us on Facebook, Instagram, Twitter and  Pinterest for daily posts and upcoming news
Comments