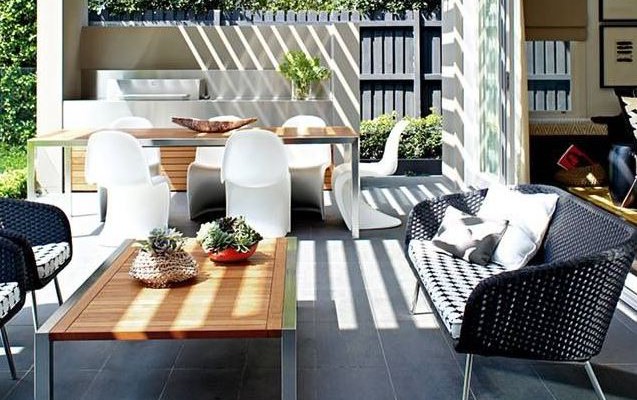 http://www.katrinaleechambers.com/
Interior and Design
Make the most of your outdoor area with these 4 simple tips
As an Australian, I love being outdoors. Whether you have a large backyard, a small deck, or a rooftop terrace, I can give you some tips that will make your outdoor area look great and make the most of the space you have. Your outdoor zone can become an extension of the living space when you have the right pieces.
Choose the right furniture:
Depending on the size, most alfresco areas need a dining table. This is a great space to entertain, have drinks with friends or family over for a BBQ.  A large table with bench seating is my pick for ideal dining furniture. The large bench seat allows for the maximum amount of people to sit either side, and when it is not being used it can simply be pushed under the table, out of the way. If you have the extra space a couple of lounge style seating with cushions is ideal for relaxing and having a drink or two. Make sure the cushions and furniture are for outdoors, otherwise they will deteriorate really quickly.
Layer effect:
A playful rug will add texture and pattern to the space. All of the outdoor rugs are a woven vinyl which can be easily scrubbed down, washed and can handle the weather. It provides much needed warmth and grounding to the space.
Create the mood:
If your alfresco is feeling cold and unfinished, adding lights and greenery will create that ambiance you need to finish off the area. Lighting adds that extra level of sparkle. It doesn't have to be expensive, hang a few fairy lights or globe string lights.  Greenery makes everything feel fresh and intimate. Pot a few fresh herbs or create a vertical garden, these can be just perfect when you need a bit of thyme for your roast chicken or a touch of basil for your pizza. It also saves time as there is no need to go to the shops. Win, win!
The finer details:
You now have a great outdoor space which can be used as an extra room in your house. Just because it is outside,doesn't mean you should not accessorize. Find pieces that have purpose as well as aesthetics; cute watering cans, trendy gardening tools, outdoor trays for cups of tea and biscuits and candles for the dusk nights will also help create atmosphere.
Connect with us on Facebook, Instagram and Twitter
And also follow us on Pinterest
Comments
comments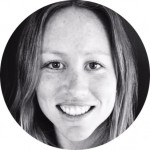 Jade Corcoran
Jade lives for design and styling and is always willing to give advice when requested. Taking inspiration from her travels, the natural world and other cultural experiences, Jade believes that good design can change the way we live and work.