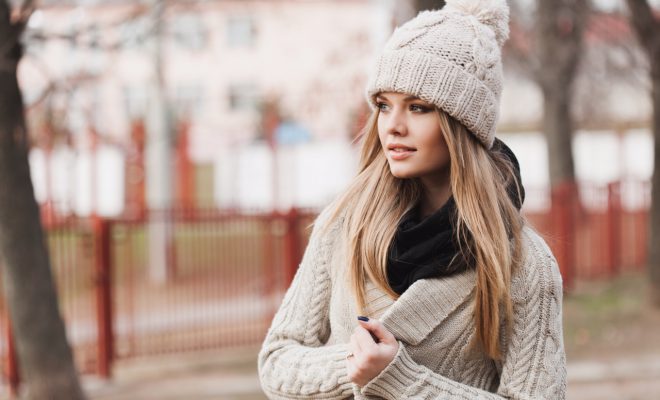 Beauty
Winter care for your hair
By
|
Face it, you're going to double time on hair care this winter. It is important to coddle your hair strands in the winter months or you will be left with extreme damage as soon as spring comes rolling in. To make your battle that much more manageable, I have listed a simple guide to help your hair survive winter.
For Long Hair
Long hair tends to have super dry ends because of the oil's inability to reach the ends. When you add the cool winter air to the mix, it could leave your strands feeling like straw. Static hair can also add to the problem. Therefore, you need to focus on keeping your hair hydrated in the winter if you have long hair.
Try also washing your hair less often. The oils are beneficial to keeping your scalp healthy and hydrated. When you wash your hair too often, you are washing off any beneficial oils too.
For those days when you don't wash your hair, a dry shampoo will give it that fresh look. When heat styling your long hair in the winter, it is highly important that you protect the ends from more damage so you should never be without a heat styling shield.
For Short Hair
Even those who have short hair are not free from the misery of winter hair care: flatness and flyaways are two of the biggest problems women with short hair face this time of year. Try rinsing your hair regularly (even daily) and you can also try switching to a gentle shampoo to keep your hair hydrated.
Dry winter hair also has the tendency to turn your short hair a bit fluffy. Therefore, using a deep conditioning treatment infused with vitamin E is highly recommended. This will combat the effects of the dry winter air on your short hair.
For Fine Hair
During winter, you can try taking biotin to promote hair growth (please consult your doctor before taking any supplements). Biotin is a vital nutrient that is essential to build stronger, healthier hair. In addition to a biotin treatment, use a lightweight volumiser to give your fine hair a boost. You need to be strategic in its use though to avoid weighing your fine hair down. Use sparingly and avoid applying directly to the roots as it will cause your hair to fall flat.
For Thick Hair
When you have thick hair, you have to be extra careful when using heat this winter. Make sure you coat your hair with a heat styling product before you pick up that blow dryer or hair straightener. Moreover, look for products that contain propylene glycol or glycerin.
Meanwhile, a deep conditioning mask will also pamper your thick strands. This will prevent static or causing your thick hair to become frizzy while adding a nice glossy finish.
For Dry Hair
Winter can make dry hair even dryer. The cold and dry air can cause your strands to become extremely brittle. Thus, be wise when investing in a conditioner for winter. Choose a conditioner with the following ingredients: coconut oil, olive oil, and shea butter. Use cool water when rinsing off conditioner from your hair. This will help seal in the moisture.
Also, try and incorporate a weekly deep conditioning treatment and anti-frizz serum to your winter hair care regimen.
For Colour-Treated Hair
Last but not the least, proper care for colour-treated hair in the winter can be achieved with the use of hydrating and sulfate-free shampoo that is designed for coloured hair. A moisturising deep mask treatment is also beneficial. This will not only keep your colour vibrant but also your strands healthy and nourished from within.
These are some of our tips for caring for your hair in the cooler months. Which hair care products can't you live without in winter?
About our guest author:
Abby is a blogger for My Hair Care, an Australian retailer of hair care and beauty products. If you want to get an additional resource for hair care and beauty tips, visit myhaircare.com/blog
Connect with us on Facebook, Instagram and Twitter
And also follow us on Pinterest
Comments