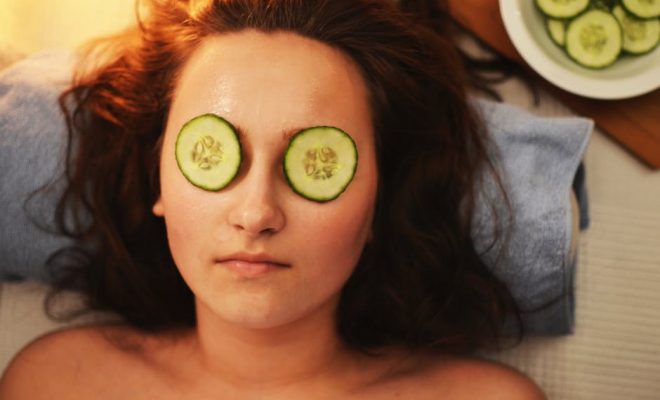 Beauty
Your 2018 beauty & wellness action plan
By
|
As we begin February, many of us are still crawling out of the haze left by the Christmas and New Year's break. If you're looking and feeling a bit sluggish after all the parties and mimosa-laced brunches, this action plan will help get you back to your best radiant self!
Banish the booze
You've had a good run, okay? Alcohol is a serious dehydrator for our skin — making our complexions dry and sallow with more pronounced fine lines and wrinkles. Plus, having just a few drinks in the evening can truly affect our deep sleep quality — that's the later part of the night when our body goes into healing and regeneration mode. An unrestful sleep, as we know, can seriously stress out our skin. If you can't banish the booze altogether, at least significantly reduce your intake and have days off from drinking. You'll notice your skin's radiance and hydration will improve, redness and puffiness will reduce, and your under eye bags will no longer qualify as check-in luggage when catching your next flight.
Increase the H20
Now that we're on the alcohol-free train, it's a good time to talk about increasing your water intake. Water is of course so important for our overall brain, cellular and organ function, and skin health. On booze-free days, try drinking tall glasses of chilled sparkling water with ice and slices of muddled fresh lemon or lime. It's a super satisfying way to get that fizzy refreshment without the alcohol content.
Restore your routine
It's easy to fall off the skincare regimen wagon over the summer break — there's way more fun things to do, right? But our skin craves routine, so to bring it back under control, revisit the skincare routine you had going before New Year's Eve blew it out of the water. An ideal regimen may consist of a cleanse, exfoliate, tone, moisture and serum — though everyone's skin has different needs. So if you haven't got a tried-and-true skincare routine downpat, book a consultation with a skin therapist who can use a skin analyser to identify your imbalances and supplement your skin with the nutrients and ingredients required for it to shine with happy harmony.
Get your groove back
We think that just because it's hot and sultry outside, we're automatically entitled to a flawless, radiant summer glow and a beach-ready body — but unfortunately life doesn't always imitate the #SummerBod hashtag on Instagram — especially after a few weeks of festive food and wine indulgence. The good news is, we can always have a helping hand to feel fresh, fly, and the best version of ourselves with strategic beauty equipment. If you haven't heard of the Super Facial yet, this 30-minute-wonder combining oxygenating exfoliation with Radiofrequency skin tightening and ultrasound skincare infusion will have you fresh-faced and glowing to the nines in no time. And as for those stubborn bulges, a course of fat cavitation treatments will slim, tone and contour your problem areas in that 'I can't put my finger on it, but you look different — you look great!' kind of way. The best way, if you ask me.
Read more of Rachel's posts here
Keep up up-to-date with daily posts and upcoming news by following The Merry Go Round on  Facebook, Instagram, Twitter or Pinterest.
Comments