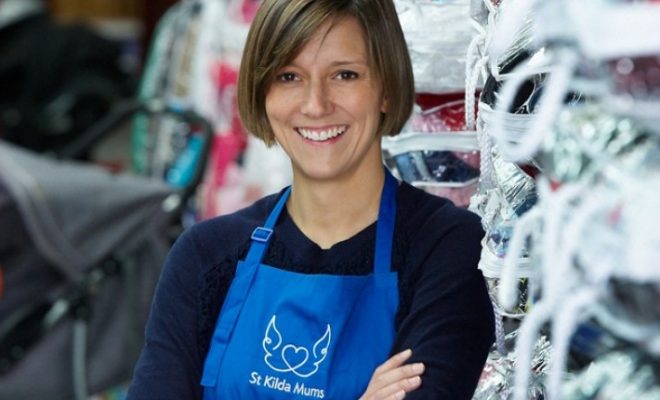 Lifestyle
A Day at St Kilda Mums
By
|
"St Kilda Mums is run by volunteers. Every contribution big and small is valued and babies and children are central to all we do"- St Kilda Mums
Fi and I met with the ladies at St Kilda Mums yesterday and we were completely blown away by their generosity and commitment to helping mums and bubs in need. We were taken on a tour by the incredibly warm fundraising co-ordinator, Dina and met the beautiful volunteers behind the scenes of this amazing charity.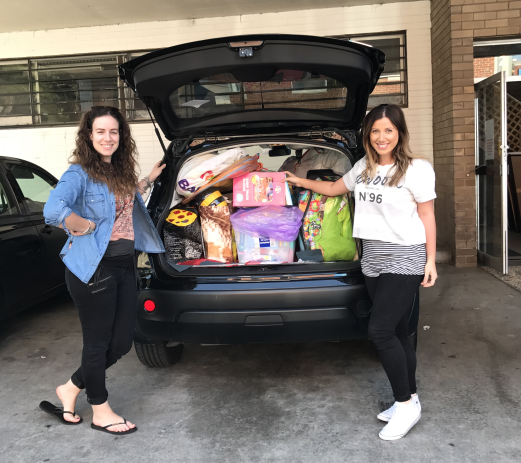 How they got started
A group of mums in 2009, began sorting, laundering and packaging pre-loved goods donated to the St Kilda's Maternal and Child Health Care Centre.  They believed it was essential to re-home the items for families that might need them.
Jessica (CEO of SKM) and the other mums wanted the mothers receiving the items to feel that they were from loving homes and in good condition. This has remained a key value at St Kilda Mums.
The items were distributed to families in need in the area by Sarah Pitney, the Enhanced Care Nurse. Sarah mentioned the re-homed goods to other social workers from local welfare agencies and the demand began to grow.
Inside St Kilda mums
When I walked into the warehouse, I immediately felt emotional, inspired and amazed at the way this charity and their volunteers unite to help mums and bubs in need.
St Kilda Mums has always been dependent on volunteers. These wonderful people give whatever time they have, whether it be for an hour or a full-time week to sort, clean, organise and package items into specific areas for collection.
Volunteers also devote their time and expertise to knit warm clothes and blankets, help design their website, participate in workplace volunteer programs etc… St Kilda Mums is founded on the generosity of volunteers and will continue to grow with their ideas, help and support.
For more information on how you can volunteer please click here.
The Goods
"We believe that by reusing and recycling much-loved babies' and children's gear, we not only share the joy of motherhood with each other, but we save the earth's precious resources too."
The workings inside the warehouse are nothing short of amazing.  You can drop off items right in front of the warehouse on Vale St in St. Kilda.  The volunteers welcome you and help unload the items. The items then get categorized and put into certain areas within the factory to be scanned, checked and cleaned ready to be beautifully packaged to be re-homed.
St Kilda Mums recycle nursery equipment like cots, prams, and car seats, as well as clothes and other baby essentials. They receive requests from Maternal Health Nurses and local social service agencies on behalf of families in need. Demand always exceeds supply. There is a very long wait list for prams and cots so if you are no longer in need of your pram, cot or high chair, St Kilda mums would be delighted to have them.
Some mothers live in a refuge, in their cars or tend to move around a lot. Items distributed are in packaged bags, so, it's important for pre-loved goods to be small enough to fit into these parcels.
Here is a list of items that can be re-homed: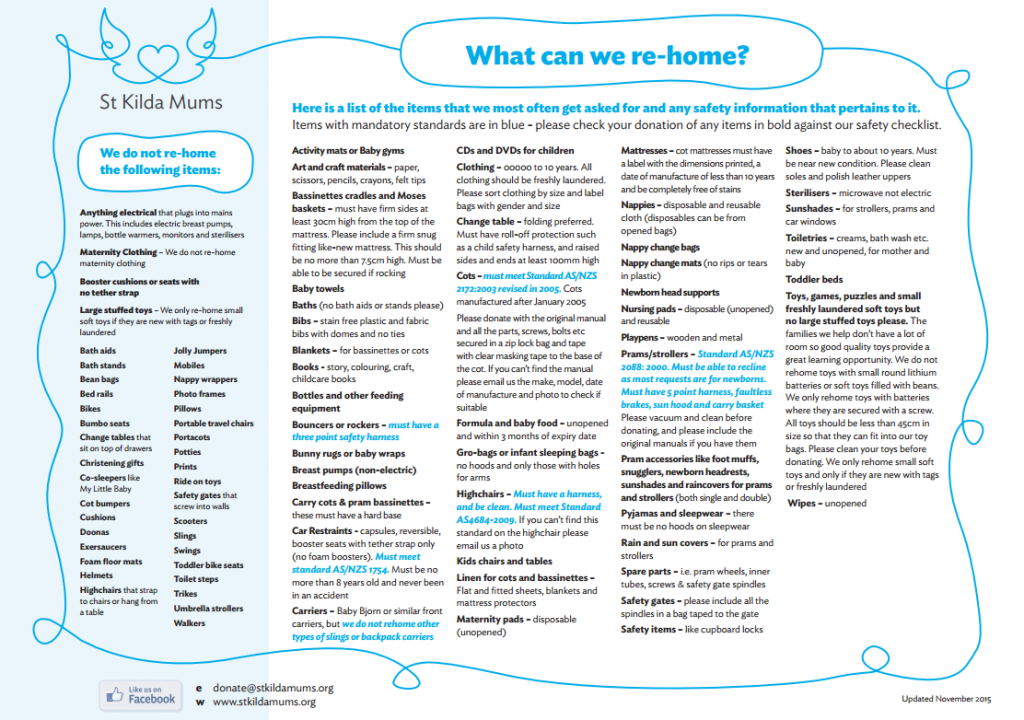 How you can help?
Fundraise
Fundraising is a great way to create awareness of the foundation and help fund much needed essentials for at- risk families.
One mother to another
One mother to another is a way to show another mother you are thinking of them this Mother's Day. She might be living in a refuge; her house might have burnt down, she might be homeless. Gather some toiletries together, write a note to a mother in need and donate! Click here to find out more about this initiative.
Workplace volunteering
Spend the day with St Kilda Mums and help prepare for collections.
Click here for more ways you can help out. For more information, follow them on social media, contact them directly or visit their website.
It really was an eye-opening and uplifting visit and we look forward to working closely with the team at St Kilda Mums.
Keep up up-to-date with daily posts and upcoming news by following The Merry Go Round on  Facebook, Instagram, Twitter or Pinterest.
Comments