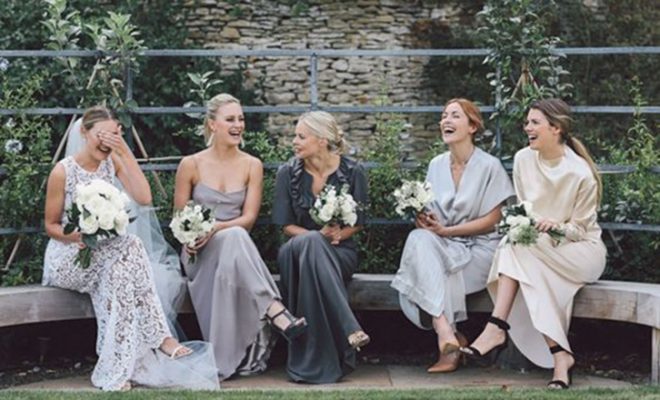 Photography: Elise Hassey
Fashion
Bridesmaid Trends
By
|
Wedding season is just around the corner! So I thought I'd put together a few ideas and inspo around bridesmaid trends. One of the hardest decisions a bride-to-be is faced with is not only the dress you will be wearing but what your bridesmaids will be dressed in. So much has to be considered from their height, skin tone and the overall look you want for your wedding. Here are a few key trends that will help you find the perfect dress for your girls.
Modern
I'll start with a trend I'm loving at the moment; tonal colours and different styles. This look is really relaxed and versatile, it's great for when your bridesmaids have different skin tone, hair colour and body shape, you can tailor each dress to compliment your girls. Think gunmetal grey, fawn and cream. A little shimmer also works here, so don't be afraid of introducing some metallics.
Traditional
You can't go past a traditional style and colour palette when it comes to bridesmaid dresses. For a polished, luxe wedding you can dress your bridesmaids in bold, yet flattering colours like navy, black and deep reds. Sleek styles with details like pleats, ruching and draping are what you would pick here.
Feminine
A feminine style doesn't necessarily mean pink and tulle. Picture floaty, dreamy styles in soft palettes. I'd be looking at peach, cream and lilac to dusty rose, sky blue and mint. Draping, layers and soft fabrics with touches of lace and a few sparkles would be perfect for this look.
Boho
One style that has evolved over the decades is boho. Big in the 1970's, this style works perfectly with garden weddings. Picture frills, lace and maxi style dresses with sleeves and don't be afraid to dress your bridesmaids in white or florals.
Kitch
After a cute, quirky wedding? This style is the answer! Dressing your bridesmaids here will be easy as anything goes really. Bold colours, patterns and detailing is what this look is all about.
Final touches
Now your bridesmaids are sorted, what's next to check off the wedding list?
Want more? Like us on Facebook, Instagram, Twitter and  Pinterest for daily posts and upcoming news.
Comments