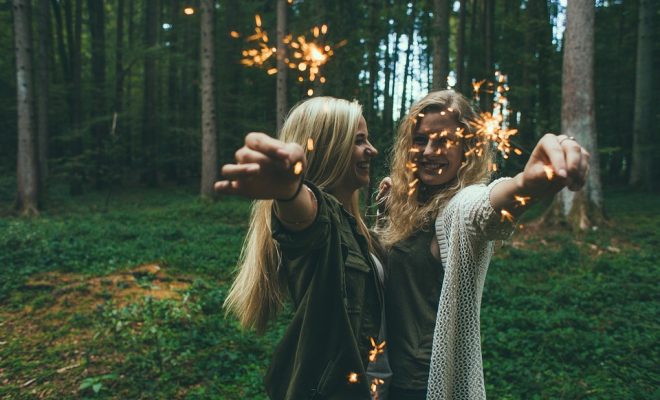 Lifestyle
Happy Birthday to us! A message from Anita and Fi
By
|
It's TMGR's first birthday this week and we couldn't be more excited and simultaneously surprised that we're here. When we first came up with the idea of putting together an online resource, we didn't know anything about developing a website, using social media or networking. We could just write.  A year later, we now know a thing or two about website development, social media and are excited about our new-found networking skills.
Since Anita and Fi are pretty much married now, it's only fair they exchange the traditional gift of the first anniversary: Paper!
*Sigh* that's boring as shit. So instead, they'll exchange thoughts on what they've created (all together… Awwwwwwwww):
Anita says…
A platform to connect
When Fi and I created this site, The Merry Go Round, our mission was to make more of a conscious effort to look for good news, share it and create it.  We wanted to provide a channel to write about ideas, situations and experiences that provide humour, positivity and a different perspective to the narrow, judgmental pathways that can be all too familiar.  A channel that, while still accepting that unfortunate events and situations can take place in the world and even in our own lives, is able to build resilience through acknowledging and being grateful for all the wonderful things life has to offer. It has been so rewarding and encouraging to hear how our posts have affected people. Whether they have laughed with us, cried with us, related or felt encouraged and inspired, if we have made a difference to just one person, we have made it.
The stuff I've learnt
It has been suggested that the happiest people are those in a tribe and we have a wonderful tribe at TMGR. All our contributors are so passionate about what they share and hold the same vision as us: They all want to make a difference.  I have personally learnt so much from each of them. Before Tyson, I was hardly familiar with any financial terms and now I'm advising people on how to budget. I enjoy making Vee's super healthy recipes, the fashion bloggers have got me on trend, I empathise and relate to the mummy bloggers, I love everything about interior design, I laugh hysterically at Fi's articles and I have learnt so much about myself though writing my thoughts down. I am tremendously grateful to the contributors and readers who have shared their thoughts, knowledge and experiences because together we create a wealth of knowledge.
Fi says…
A creative outlet
When Anita and I decided to start TMGR (let's be honest, she bullied me into it because she's a tiny, excitable bully) I was exhilarated and terrified to post my writing on such a public platform. But over the past year the comments and reactions to the posts have been so kind and encouraging. My confidence has grown to the point where I have now revived my dormant novel. Thanks team! And this has not only happened to me, but all of our contributors have benefited from sharing their knowledge and stories. We have met so many wonderful people this year that have been so inspiring, motivating and passionate. We are very excited to introduce you to our new series this year on successful women and how they achieved it.
Working with my BFF
Who doesn't want to work with their best mate? I know what you're thinking: "OF COURSE I don't want to work with them because it might fuck up the friendship." Well you're wrong, bro! Our bajillion daily conversations swing wildly from Instagram pics to editorial content to photography and back to Insta again. We work so well together because our strengths compliment each other, rather than compete. She can network like nobody's business! I once left our team meeting to move my car and I was gone for two minutes max. When I returned she had befriended the woman at the next table and had convinced her to write for our website. WTF? I could never do that, which is why we make a good team. But Anita and I have have always agreed that we are friends first and business partners second. Unless we get super rich, then I'm bailing on her.
Thanks for an amazing year Merry-Go-Rounders! We couldn't have done it without our contributors, our web team and our readers xoxo
Want more? Like us on Facebook, Instagram, Twitter and  Pinterest for daily posts and upcoming news.
Comments