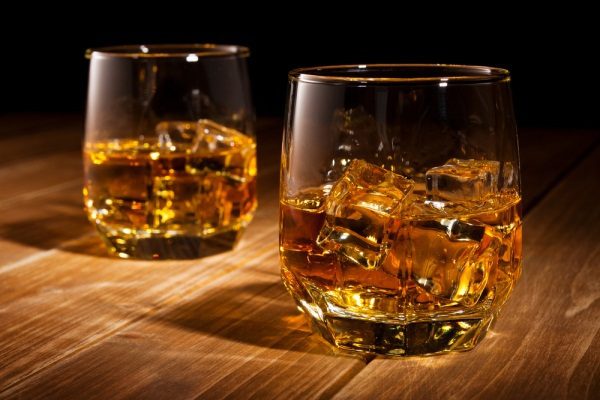 ediblebrooklyn.com
Sex and Relationships
The Single Girl: I'm feeling whiskyed away
By
|
I am The Single Girl, and this is my column. Every week you'll find another warts and all story from my dating life. Learn more about me here or just carry on reading!
I'm quite sure there is nothing more dizzying than the electricity of a new connection. 
For those new to the Single Girl, or those returning from holiday, or those who, entirely forgivably missed last week's edition owing to, I'm sure, very pressing business, I met a man, a rather lovely, completely compelling man. 
I worry the number of people I've confessed this new connection to in the mere six days since we met may be verging on the alarming.
I somehow managed to inject it, quite casually, into the usually perfunctory conversation I have with the person behind the glass who tops up my Myki.
Tedious I know, but the quantity and quality of the texts that fizzed between Charlie and I at all hours of the day, were like ecstasy main-lined into my blood.
Fear not, whilst all this textual-intercourse was fabulous fun, it hasn't been the sum of our interaction this week. Charlie and I have been on no less than three dates this week.
We whiskyed on Wednesday, cocktailed on Friday, and I'll get to what we did on Saturday soon enough.
Boilermaker is one of the city's best worst kept secrets; plonked on an unfashionable stretch of La Trobe, a couple of doors down from a shop which ships baby formula to China (I'm not even joking), is the biggest collection of whisky in Victoria.
Now, I'm a whisky fiend, and a well-read one to boot (my dad is Scottish — it was unavoidable), so when Charlie suggested it, I jumped at the chance to surprise him with the range and depth of my knowledge. 
Despite my goldfish Evelyn's rakish indifference to my date night outfit, I must say I think I looked more than a tad sexy, in black skinnies, a mid-heeled boot, a sleeveless black button-up blouse, and my leather biker jacket.
Charlie was suitably impressed; the look on his face as I approached suggested the first tickle of a coming heart attack.
"Wow," he said. Arriving to a genuine wow is the new bar, nothing less will ever do.
He looked a bit sexy himself. I hadn't realised I'd been so fully anticipating him to be wearing the same clothes as when we met. He struck me as a one-style guy. I was totes cool were that to be the case, but was also maybe somewhat relieved when it turned out not to be.
Instead of the expected skinnies and plaid, he was wearing navy chinos and a relaxed grey cotton flannel button down, with some desert boots, and wearing some glasses I'd not seen before. Thin gold frame, roundish, forgivably hipster, and entirely pulled off.
And get this, when I arrived, he wasn't, like every other bloke there waiting for his date, thumbing through Facebook, he was was reading a motherfucking book! Which he snapped shut as he saw me and diffidently slid into his satchel.
"Polishing up on your whisky knowledge?"
"Ought I to have been?"
"Maaaybe," I said, fixing his pearly-blue eyes.
I quickly taught the uppity waiter who was boss with a devastatingly niche question designed to undermine his Scotch for Dummies smart-arse-ery.
With him neatly dispatched with his hipster moustache between his legs, Charlie and I dispatched a few drams of Islay's finest. It transpired he was no amateur either, though his knowledge was predictably more a la mode, all Japan and New Zealand.
As he began to expound the many and as he saw it varied virtues of the growing Tasmanian whisky, I found myself lunging, I fear rather dramatically, for his lips.
The rest of the night is something of a blur. I returned to something approaching sobriety in the upstairs section of Stalactites halfway through a lamb kebab, noting with not a little pride that I'd remembered to order my customary additional hot sauce.
Charlie flagged me a taxi down and that was that.
The 48-hour hangover which followed felt like penance and when I finally clapped eyes on Charlie again on Friday in Lily Blacks it felt unerringly like redemption.
Lily Blacks does good cocktails and great atmosphere. Excited at first, Charlie was clearly distracted by something, and as the night went on I eventually lost patience and sweetly demanded to know why I was the only one keeping up the conversation.
Work had been hellish he said. A close workmate had been tempted to a rival agency, and as a result a million projects had been thrown into chaos.
"Charlie, is it your intention to fix those problems in the next four hours?"
"I've been known to do some of my best work after three Old Fashioneds," he said, unleashing his first, full, beautiful smile of the evening.
After that moment of, it felt relationship deepening, frankness, our electricity returned.
Though, and to my chagrin, when he hailed a taxi this time, to my displeasure he didn't open the other door. I sailed off into the night, a little perplexed. 
"He thinks you're a three-dater."
"I despise that notion. It is stupid and hateful towards women."
"I agree."
"I want

"
"Then get it. Invite him over."
"






"
I don't know what the official name of that emoji, but you know the one. As ever Clem's WhatsApp advice was pointed and perfect.
So on Saturday night, I suggested to combat our mutual hangover, a Chinese takeaway and an Apple TV rental — I couldn't bring myself to write Netflix.
He came, and well, yes. And it was splendid. And it was splendid again in the morning three times.
We spent Sunday morning brunching before he disappeared to footy.
Sex, as we all know, is the start. And I am so excited for what comes next.
Catch up on The Single Girl:
Previous ep: A party for two
Want more? Like us on Facebook, Instagram, Twitter and  Pinterest for daily posts and upcoming news.
Comments