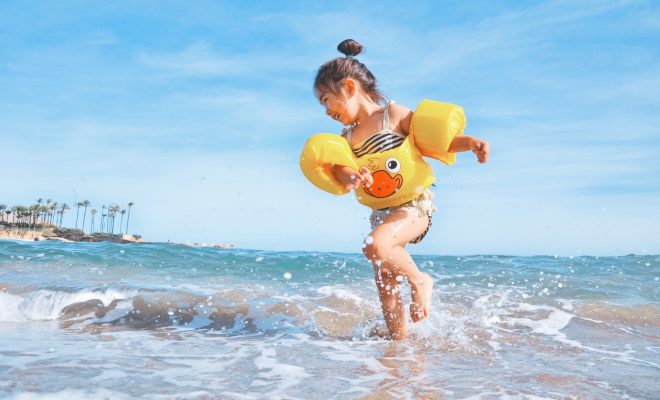 Parenting
Travelling with kids: The Gold Coast edition
By
|
"Holiday". That elusive, rare thing….as rare as a snow leopard caught on camera. We attempted to have a "holiday" just before Christmas with an almost 5-year-old and almost 11-month old (who, incidentally, started walking on the trip). I know. Stop laughing at me.
It wasn't exactly restful or relaxing for me and hubby. However, it was at least a change of scenery and we got to have fun in the sun with the kidlets. So it was still a win! And, along the way, we learned a thing or two that will come in very handy the next time we venture up north to the Gold Coast. So here are my tips for those of you with young children who have yet to make this quintessential holiday:
COFFEE – Melbourne-quality coffee DOES exist in Queensland. Yes indeed, a mere twenty metres from our accommodation in Coolangatta was the excellent Rockleigh Café, with top-notch coffee and food. There were also several other excellent coffee establishments and even a Gelato Messina. Culinary delights abound!
CAFÉ HOURS – A little secret about these fabulous cafes, however, is that they tend to open for breakfast and lunch then close in the early afternoon. If you are a 3-4pm coffee addict like me, you may need to re-adjust your day. With no daylight savings, that may not be difficult (since the baby was suddenly waking up at 5am each day. Hence my fixation on coffee!)
THEME PARK PASS – The 7-day theme park pass is truly excellent value. We were able to take in Warner Bros. Movie World, Wet n' Wild and Sea World as many times as we liked in seven days. The flexibility of being able to pop in and out as desired is a big bonus, especially when weather is changeable.
STORMS – If electrical storms are predicted, be warned that Wet n' Wild may close, or at least you won't be allowed in the water until the storm has well and truly passed. Something we learned the hard way.
SUSTENANCE – Warner Brothers Movie World and Sea World don't officially allow adults to bring their own meals, though snacks are fine. However, those of us with special dietary requirements, as well as babies and toddlers, are allowed to provide their own meals. We found this very helpful as it avoided queues and meant that we could quickly squeeze in our meal in between rides and shows. Of course, the money we saved on lunch meant we could treat ourselves to some ice-creams and merchandise too.
AGE-APPROPRIATE ATTRACTIONS – Warner Brothers Movie World has a fabulous kids area that kept our pre-schooler satisfied for AGES. The height limits enabled him to go on all the rides in that area and to experience age-appropriate versions of some of the grown-up rides, even a roller coaster. His favourite was the driving school where he got to 'drive' his own car around a cartoon city. Be sure to line up early along the main street for the 3:30pm characters parade including DC comic superheroes!
SEA WORLD – Sea World is fabulous, especially the penguins, polar bears and dolphin displays. There are also Nickelodeon characters and shows perfectly pitched to my pre-schooler. Unfortunately, however, the day we went was an absolute scorcher and many of the shows or attractions lacked shade. We were also disappointed that the water-slides and pools were closed so we had no way to 'cool off'. On a milder day it would be much more enjoyable.
RENTAL CAR – I highly recommend a rental car for easy travel to/from the theme parks…especially when the littlies hit that sudden 'wall' and the sooking and whining commences. Pack them in the car and get 'em back for a nap instead of waiting around for a bus.
PIZZA HUT – Following a big day of roller-coasters, thrills and spills…..head to Coolangatta for one of the few remaining dine-in Pizza Hut restaurants. Hubby and I enjoyed the nostalgia of the all-you-can-eat Pizza Hut experience and the kids went nuts on the food. Get in early as it's busy! And after you've stuffed yourselves, you can digest while taking a stroll along the picturesque Kirra Beach with the backdrop of surfers catching massive waves.
CHANGE OF PACE – And if you're all done with Theme Parks and looking for a change of pace……check out Broadwater parklands in Southport for a family-friendly playground and water-play experience. Another highlight is Cudgen Creek estuary in Kingscliff, a picture postcard place to swim which, at low tide, exposes a sandbank and is ideal for young children to wade and play.
After years of overseas travel, it is nice to know that there is such a family-friendly destination close to home. We'll be back again soon!
Read more of Malena's posts here
Want more? Like us on Facebook, Instagram, Twitter and  Pinterest for daily posts and upcoming news.
Comments