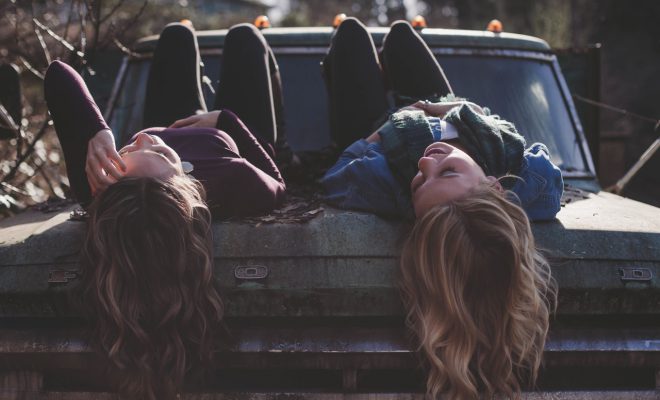 Parenting
Why I need my friends – old and new
By
|
When I think about the important people in my life, I'm lucky to be able to think about my beautiful family and how much they truly mean to me. They are my support network, my strength when I feel weak and my happiness when I feel sad. They are essentially, my world.
I'm also lucky enough to be able to view my friends like family, because they too do all of these things. They have been there for me through thick and thin and I couldn't imagine life without them.
We all know though that life changes. We change as individuals and our circumstances change as time goes by. Therefore, the relationships that we have also change, sometimes dramatically. We can differ on career, lifestyle, finances, politics, parenting and so much more. The beauty of a good relationship though is one that can stay strong through the ups and downs of our ever-changing lives.
It's no secret that becoming a mother changes you. It changes the way that you see your own parents, the relationship you have with your partner, your idea of love, and ultimately as much as we don't want to admit, it can sometimes create divisions amongst friends. Simply because your worlds become so different. You quickly become time poor (even a shower is a struggle some days) and it's hard to stay in touch when your priorities are fixed on one little human that demands your constant attention.
At first, I struggled with the changes to my life when my daughter was born on many different levels. I missed my career, I missed my sleep, I missed my freedom and I missed spending time with my friends like we used to. In the first few weeks of motherhood. I was in a haze of breastfeeding battles, sleep deprivation and a lack of confidence like nothing I had experienced before. At the time I felt as though no one could understand and I found it difficult to talk about. I had an idea in my head that because others were not experiencing this, then how could they relate. Therefore, I believed it was only inevitable that a division within my relationships was going to emerge.
However, I quickly learnt that although what I was living was different to that of those around me, it didn't matter. Good friends are those that will stick by you even though they may not fully comprehend. They are the ones that will turn up on your doorstep with a meal because they just know it's the exact thing that you need at the time. They are the ones that will forgive and forget after you forgot to text back for the 10th time because of the 2 hours of sleep you managed to get between feeds. They are the ones that know exactly the right thing to say.
Although some friendships can be strained when circumstances change, I am lucky enough to say that mine only become stronger. Even though I am sure my constant whining and stories of the kids drives them a little crazy sometimes, they still listen and I am so grateful for that. The mere fact that we have indeed all been through so much on our individual journeys and are able to still laugh out loud and be honest about our struggles, is proof that changes in circumstances shouldn't create gaps amongst friends. Instead, they can help us grow and this is what we should all embrace, especially as Mums, because during this time you need your support network.
Although friendships have shifted from late night drinks, heading out to dinner, coffee catch-ups and a hell of a lot of wine whenever we wanted, to planning around nap times, discussion about house prices and the ins and outs of ovulation, sex and childbirth, we are better for it. At the heart of it all we can talk to each other and know that we will be heard. Nothing, especially motherhood can break the bond of a true friend. It can only make us a stronger force that will never be broken.
My friends, new and old (they know who they are), keep me grounded and I am so thankful for that. They inspire me and they lighten up my day when I need them to, especially after an eventful day that can involve anything from plucking my 2 year old out of the toilet or a panic attack because "did she just eat that coin?!"
So to all the new Mums out there, turn to your friends not away from them. Listen to them, as you need them to listen to you, and embrace changing circumstances. Yes it can be tough sometimes but at the heart of it, a true friend is worth making time for.
Join in the conversation.
Connect with us on Facebook, Instagram and Twitter
And also follow us on Pinterest
Comments