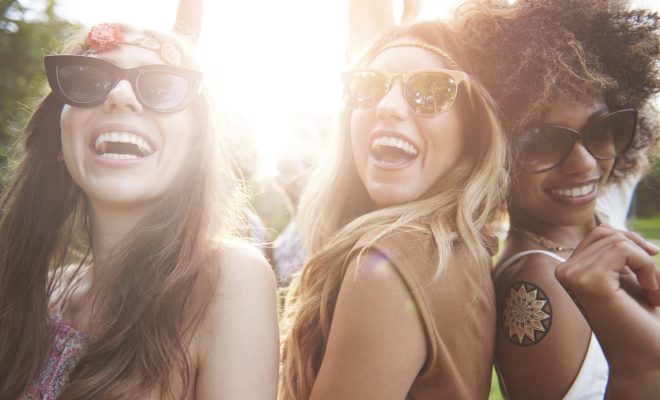 Beauty
4 steps to brighter skin  
By
|
Dull, uneven or patchy skin giving you a case of the doldrums? Not to worry, here's my top four pro tips for brightening your complexion so you can love the skin you're in:
Step 1. Stay out of the sun
We all know this one—but then summer rolls around and you find yourself baking on Bondi beach for six hours, yet again. But the reality is, UV exposure increases melanin production in the skin which can lead to irregular blotches, sun spots, discolourations, mottled skin tone and irreversible redness.
The best solution without being a total stick in the mud? Enjoy the great outdoors, but be sun smart: Never forego the SPF 30+ to exposed areas of the body, invest in a chic sun hat that provides ample face coverage as well as a pair of polarised category 2 or 3 sunglasses (reduced glare + high UV protection = less squinting, which leads to less crow's feet).
Step 2. Know your skincare ingredients
If you're looking to prevent or do away with hyperpigmentation and uneven skin tone, then there's a few strategic skincare ingredients to keep an eye out for when purchasing products.
Vitamin C is a popular skin brightening ingredient in both professional and store-bought skincare, but other great skin brighteners include liquorice root and niacinamide. Niacinamide (also known as vitamin B3 if you want to sound less intimidating), not only strengthens your skin's barrier against environmental factors, but also works to refine enlarged pores, reduce hyperpigmentation and fine lines, and improve overall skin tone.
I love: For a powerhouse of skin brightening ability, try the Accelerate Brightening or Platinum Peptide Brightening Cream, both by bt-Ceuticals.
Step 3. Brighten up from the inside out
Research shows that eating a diet rich in carotenoid vegetables and fruits gives you a healthy glow! I bet the sun lovers who were shaking their head at my advice in Step 1 are on my side now.
Get your head-turning glow on with carotenoid-rich foods such as carrots, broccoli, sweet potato, capsicum and dark leafy greens. While you're at it, why not finish up your meals with a cup of ginger tea, which not only aids digestion, but stimulates sluggish blood circulation and encourages greater toxin clearance for clearer, brighter, healthier skin.
Step 4. Go pro level
Nothing can tackle uneven skin tone quite like the innovative beauty equipment we now have at our fingertips. Talk to a trusted skin therapist who can guide you down the path of IPL treatment, which is fantastic for reversing sun spots and pigmentation; or for an over-all skin balancer and brightener—a course of LED light therapy facials or hydrodermabrasion treatments will work wonders for dull, uneven and congested skin.
For more of Marina's advice, click here
Keep up up-to-date with daily posts and upcoming news by following The Merry Go Round on  Facebook, Instagram, Twitter or Pinterest.
Comments