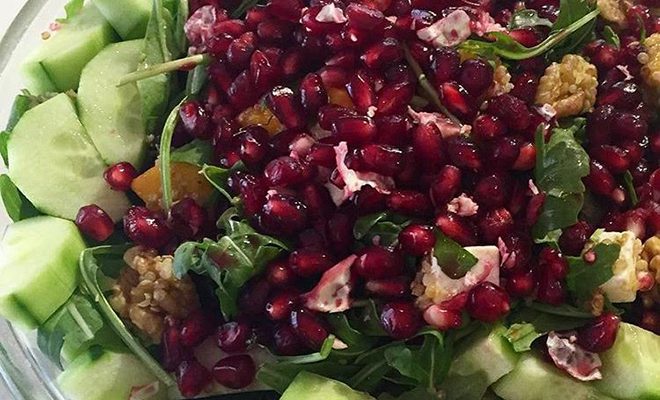 Mind and Body
A pomegranate salad that packs a healthy punch
By
|
When you think of pomegranates, what pops into your head? It looks like a red apple but it isn't? Correct! It's filled with yummy, edible seeds? Right! It's too hard to incorporate into your diet? Oh sorry, wrong!
Did you know that pomegranate seeds are choc full of antioxidants? The seeds, also known as arils, are three times stronger in antioxidant activity compared to red wine and green tea.
Not only that, but one cup of seeds contains around a third of your daily recommended Vitamin C and, just like my quinoa salad recipe, is high in fibre. Those little red seeds have also been known to give your memory a boost.
Try out my easy-to-make pomegranate salad today and load up on those health benefits. It's a great healthy summer salad to enjoy on hot days, not to mention light and refreshing too.
POMEGRANATE & MANGO SALAD
2 continental cucumbers peeled and chopped into cubes.
2 large handfuls of fresh rocket.
2 large mangos cut up into cubes.
A handful of fresh mint.
20 crushed walnuts.
A touch of low fat feta chopped into small cubes.
Deseed 2 large pomegranates (cut into halves, use a spoon to bang the back and collect the seeds in a bowl) and sprinkle on top with olive oil, lemon juice and sea salt.
Remember:
Choose darker pomegranates and ones that feel heavy.
Feel the skin and make sure it's firm and not wrinkly.
Whole pomegranates will keep in the fridge for up to a month, but if the seeds have been removed you should use within a few days to keep the taste,
Get chopping and enjoy!
Keep up up-to-date with daily posts and upcoming news by following The Merry Go Round on  Facebook, Instagram, Twitter or Pinterest.
Comments