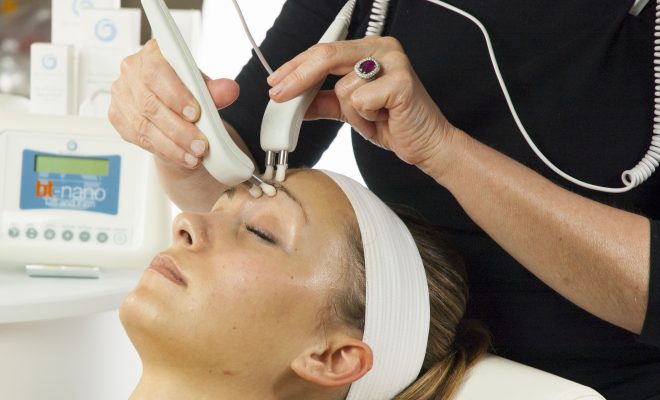 Beauty
Beauty News: WTF is a microcurrent facial?
By
|
Want to take years off your face without subjecting yourself to surgery or needles? Then get hip to what celebrities like Jennifer Lopez, Oprah, Kate Winslet and Jennifer Aniston have already known for years — microcurrent facials. Rumour has it that Princess Di was even a fan — so if it's fit for a princess, we want to know about it. Stat!
So, what is it?
Microcurrent therapy is touted as the 'non-surgical facelift'. It lift, tones, volumises and contours facial features without having to jab Botox or fillers into your skin. Facialists to the stars have long been including microcurrent treatment in their repertoire, but it's only recently that this A-list anti-ageing treatment has become a buzzword in everyday beauty circles.
How does it work? 
Think of it like this: we go to the gym and work out our body muscles to stay healthy, in shape, and to prevent all our bits and pieces from travelling down south — but do we ever think about our face? Just like the rest of our body, our facial muscles weaken with age, losing tone and elasticity, causing things to droop and sag. Microcurrent is essentially a workout for your face to tone and shorten muscle fibres, while also providing extra anti-ageing benefits to the dermal layer by stimulating collagen and elastin production for plumper, firmer skin with greater bounce-back and resilience.
During a microcurrent facial, your skin therapist will apply a conductive gel which aids the delivery of low level electrical current deep into the skin via two electrode wands or probes (one negative, one positive). Your skin therapist will then guide the probes strategically over areas of the face to stimulate muscle activity underneath.
There are over 32 facial muscles to work with, so while at-home microcurrent devices with weaker electrical currents are now available, nothing can beat the professional strength and expertise of a trained therapist who knows exactly where to stimulate to lift, tone, contour, sculpt and tighten. A dynamo microcurrent therapist can even help improve facial symmetry by lifting a brow here, and evening out a lopsided lip there.
Does it hurt?
The idea of getting your face probed with electrical waves doesn't sound very enticing, but treatment is actually subsensory — which means you won't feel anything but the wands gliding across your gel-covered face, and perhaps a slight tingle. Many clients find the experience quite relaxing and even take the opportunity to clock in a ninja nap (this gives a whole new meaning to beauty sleep, am I right?).
Are effects permanent?
While you'll notice some pretty impressive de-puffing and lifting benefits after your very first facial (it's a great 'pick me up' before a big event), microcurrent therapy is a cumulative treatment so for long-lasting results you'll want to book in a course of treatments, followed by a maintenance treatment every now and then, as advised by your skin therapist.
But hey, when you consider that microcurrent works with your muscle and skin to energise and revitalise its youth instead of freezing it at a stand-still like Botox, it's no wonder that in our increasingly health-conscious and body-positive society that the natural anti-ageing effects of microcurrent is in, and nips, tucks and needles are taking a back seat!
Find a microcurrent facialist in your area by calling The Global Beauty Group on 1300 006 607.
For more of Brittnay's posts, click here
Keep up up-to-date with daily posts and upcoming news by following The Merry Go Round on  Facebook, Instagram, Twitter or Pinterest.
Comments