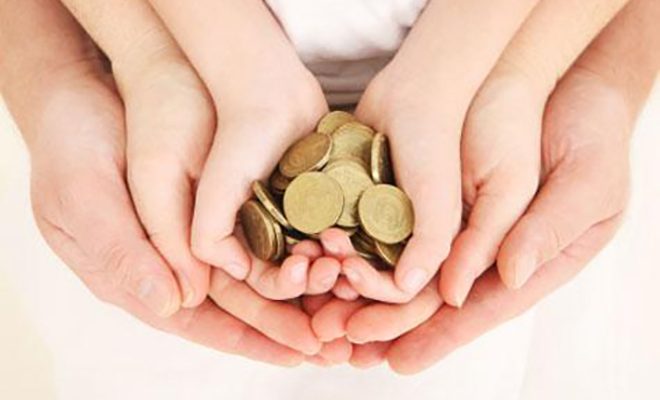 motherpedia
Parenting
Family funds: How I save money as a parent
By
|
Parenting can be the most enjoyable and rewarding gig in the world, but it's also no secret of mine that it is a gig that you have to work at, emotionally, physically and unfortunately… financially.
My husband will be the first to tell you that I am not the best when it comes to saving money, for, well… anything. And look, I will admit, my daily coffee habit (among other shopping habits) does leave a dent in our finances. But, like any stay at home mum, I am realistic and fully aware that when I stopped working, in order to look after our children, that my contribution to our bank account stopped too.
Here are some of my ideas to stop the money from disappearing altogether:
BUY SECOND HAND
I never used to be a fan of this idea, but I have found some fantastic products for my kids at a fraction of their original price. It is well worth the effort.
Hands down one of my favourite places to look for kids clothes and toys. Simply search for a 'Buy, Swap, Sell' Facebook page in your area and starting scrolling. If you're in the southeast like me, check out 'Baby and Kids Buy Swap Sell Yarra Ranges', where you can find anything from maternity clothes to kids furniture, prams and toys.
You can find so many baby & kids products on eBay. All you need to do is take the time to search. I have been able to bag a few bargains this way, including our City Select double pram, brand name clothes and the latest, a Mocka balance bike for less than half the original price… and it was brand new! Keep your eyes peeled and you will get lucky.
Get out and about and keep an eye out for the traditional, local sales.
EMAIL LISTS
Yes, I hear you. email subscriptions can be an absolute pain in the backside, but be clever with the ones you choose to sign up to & you could find yourself saving some serious cash. I have limited my subscriptions to those shops that I love, but can't afford, so I can jump when they have a sale on.
PLAY DATES
I love a good play date, and who doesn't? Catching up with friends and letting the kiddies burn off some energy is my idea of a great morning. It's even better with a great coffee to match. However, if you're out to save money head to the local park (perhaps near a café for a pit stop… sorry I have an addiction) or alternate between each other's house instead of a play center to save cash.
ONLINE GROCERY SHOPPING
Not only does this save time and your sanity, it also ends up saving you some money Win-win! Although you have to pay for delivery ($10), it will stop you from making impulse purchases. Make a list and stick to it. Set the page to find the lowest price per item and keep an eye out for specials.
SELL SELL SELL
It's amazing how much you can accumulate in your house over the space of six months. If you don't need it, get rid of it. Place the money you make into a savings jar and keep it for something special, put it back into buying what you need or even pay off any debt.
STORE AWAY UNUSED TOYS
When bub is inundated with gifts for a birthday or Christmas, pack some away and use them for a rainy day. Even with toys that have been played with and then forgotten, store them for a few months and when you bring them out again it's like a brand new toy to play with. There is no need to constantly buy toys – just rotate and reuse.
VEGGIE GARDEN
Not only is this great for little hands to play in the dirt, but it's good for the back pocket. Even if it's saving money on tomatoes and lettuce each week – it's a saving.
MONEY BOX/COIN JAR
It's not just for the kids. Keep a jar for all that spare change, even if it's all 5-cent pieces. It all adds up! And when it does spend it on something special for you and your partner. You deserve it.
CREDIT CARD
My simple advice – don't put it on the credit card if the money isn't already in your bank account. If you have a debt, set up automatic payments to pay it off, even if it's just a small contribution per month.
Use your credit card to accumulate frequent flyer points and save them for a holiday. Just make sure you transfer the money straight away to avoid fees. We just returned from our first family holiday (and our first holiday since our honeymoon!) to QLD and shared the points across our flights and accommodation (through QANTAS) to save big money. We use the credit card to pay for groceries each week and over time, the points added up and we saved on our holiday. It takes time, but it's worth it.
BUDGET & THINK AHEAD
Besides from Tyson, our finance guru here at The Merry Go Round, my husband has a man crush on financial advisor Scott Pape, because of his clear and informative advice. Check out his book 'The Barefoot Investor' for ideas on setting up savings accounts for the future. I'm not one to be interested in finances (again… I really like to shop…) but this book will guide you through the ins and outs of planning ahead for your family. When creating a budget, be realistic and keep it simple – remember you want to be able to stick to it. We have created a series of accounts that money is automatically transferred to, for future school fees, birthdays and holidays. Even a small amount each week goes a long way.
I'm sure that there are plenty of parents that are more money savvy than me out there though. What are your special tips for saving money? Join in the conversation!
If you're interested, read more of Sarah's posts here
Want more? Like The Merry Go Round on Facebook, Instagram, Twitter and  Pinterest for daily posts and upcoming news.
Comments