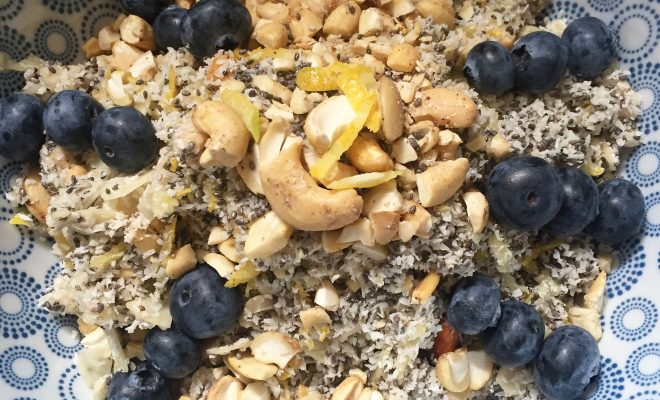 Mind and Body
Healthy Seed and Nut Museli
By
|
A delicious and nutritious combination of healthy ingredients that really come together well.
It's such a great versatile recipe, as you can mix and match with any seeds and nuts you like.
RECIPE:
100g of buckwheat grain
30g of sesame seeds
250g of rolled oats
50g of coconut flakes
50g of cashews
50g of chia seeds
50g of almonds
50g of lemon rind
50g of organic honey
1 tablespoon of stevia
1 tablespoon of vanilla extract
30g of macadamia nut oil.
METHOD:
Turn your oven on at 180c.
Place in a large cooking bowl, oats, coconut flakes, almonds, cashews, chia seeds, sesame seeds and buckwheat grain.
Mix all the above dry ingredients well with a wooden spoon.
Add in macadamia oil, vanilla extract, honey, stevia and lemon rind.
Mix all the ingredients together until you achieve a well combined mixture.
Pour the mixture onto a lightly spray cooking tray and place in the oven on 180c for 15 minutes.
Before consuming allow the muesli to cool before adding your favourite fresh fruit, yogurt or milk.
Enjoy!
Keep up up-to-date with daily posts and upcoming news by following The Merry Go Round on  Facebook, Instagram, Twitter or Pinterest.
Comments