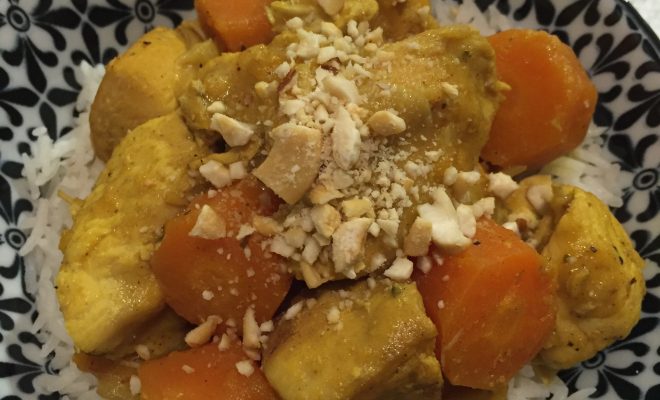 Mind and Body
Winter Warmer: Slow cooked mild chicken curry
By
|
This hearty slow cooked chicken curry ticks so many boxes if you like monitoring your nutritional intake. With a healthy amount of protein and carbohydrate, this dish really leaves you feeling satisfied.
This curry also contains turmeric powder, which is a great natural, anti-inflammatory, known to reduce the effects of arthritis.  Curry powder also has the ability to boost bone health and coconut cream can aid in digestion and reduce constipation.
So spice up your dinner with a healthy bowl of chicken curry and enjoy the nutritional value too!
SLOW COOKED MILD CHICKEN CURRY.
RECIPE:
1 teaspoon of Olive oil.
1 kg of lean chicken breast diced.
2 onions diced.
2 large sweet potatoes diced.
4 large carrots diced.
1 cup of light coconut cream.
2 tablespoon of curry powder.
3 tablespoons of Sharwood's tikka paste.
2 tablespoons of turmeric powder.
3 cloves of freshly crushed garlic
2 tablespoons of honey.
1 tablespoon of sea salt.
3 tablespoons of organic natural peanut butter.
METHOD:
Heat the olive oil in a pan and cook diced chicken until lightly brown.
Place chicken, sweet potato, carrot, onion, curry powder, tikka paste, turmeric powder, crushed garlic, salt, peanut butter and honey into a slow cooker and stir well.
Allow to cook for 4 hours on high or 8 hours on low.
Add light coconut cream and stir through 10 minutes before serving 6. Serve with rice or quinoa with some crushed peanuts and sesame seeds on top for extra flavour. ENJOY!!
Keep up up-to-date with daily posts and upcoming news by following The Merry Go Round on  Facebook,  and Instagram,
Comments