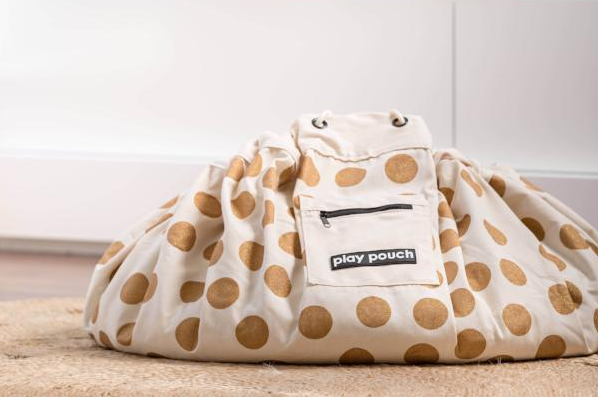 Parenting
Product Review: The Play Pouch
By
|
Being a Mum and an early childhood educator, I love the value of play.  I love the concepts that children can learn and I love the freedom that it allows (let's not forget that bit of 'me time!'). However, like everything with young children, play also means mess!!
Recently, I discovered The Play Pouch and it has created a new world of possibilities for play and creativity, both at home and on the move.  We are a young family and whenever we go out, I feel like I spend way too much of my time packing and unpacking bags and of course, taking a million things with me (mostly toys to keep the wee ones busy). So,  since discovering the Play Pouch, I feel like I have saved so much time. I can fit everything I need for them in the pouch and easily carry it with me. The extra bonus, the easy set up and pack up!
There are so many other ways to use this lifesaving gem.  Here are my Top 5:
The days of standing on rogue Lego blocks are over!!
Every parent at some point will experience the soul crushing, intense pain caused by these tiny blocks. Lego play is now a whole lot less painful, simply open the Play Pouch flat on the floor and the Lego is contained to a space, obviously there will always be a few blocks that wander…but they'll be much easier to spot.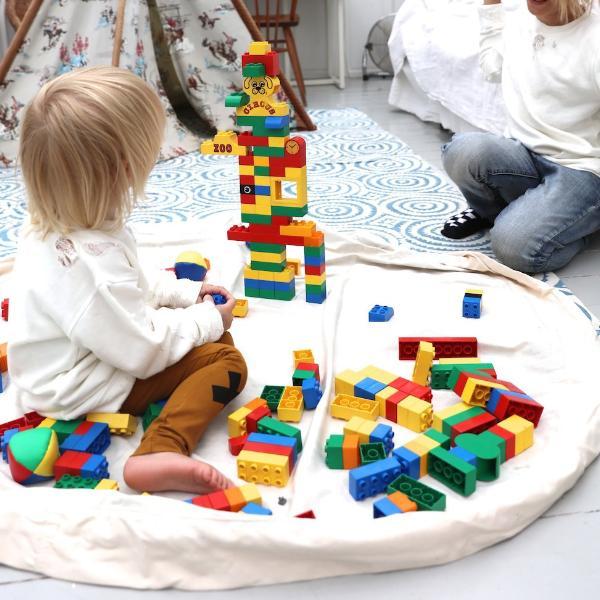 Packing up is a breeze, simply fold it over, do the zip, and hang it up or put it in the cupboard.
I LOVE that the Play Pouch empowers kids to participate in achievable pack up… a place to play then simply pack away. Gone are the days of having to negotiate packing up or be left to do it long after the kids have lost interest.
The play can follow the children where they go.
Children, especially very young ones, want to play wherever you are. The Play Pouch is great as you can set up what your child wants to play and when it's time to move to a new location, just bring the play with you. It's super handy when moving between indoors and outdoors too!
It's a safe and clean place for babies to lay and play.
Whenever we venture out, I always pack a blanket for my baby to play on so I can feel confident that my curious bub can play safely without the potential of finding small little things to chew or suck. The Play Pouch allows me to simply pack some toys and books within the pouch and when we arrive, open it all up and pop bub down.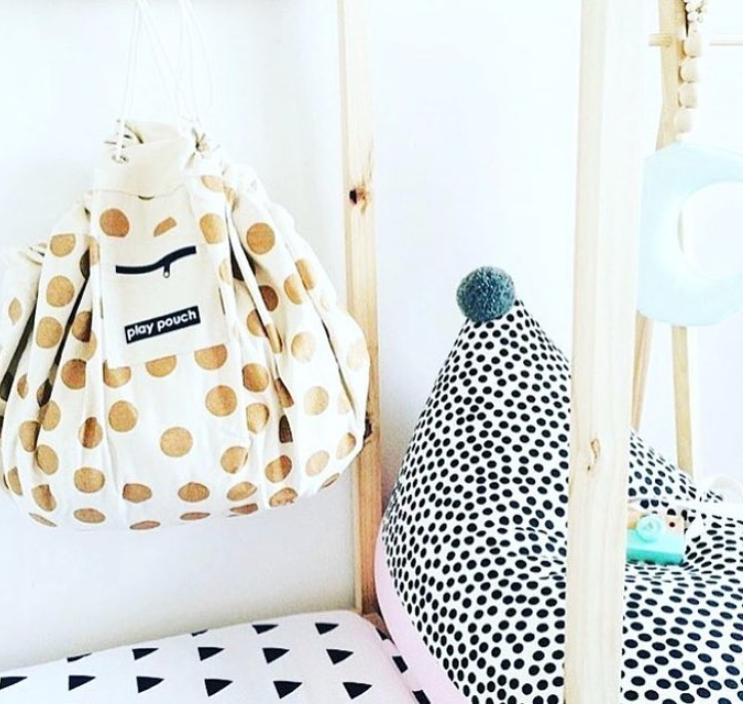 The Play Pouch offers stylish storage in your home and allows toys and essentials to be easily transported when you're out and about. They look amazing with the range of colours and prints, and are a great way to practically store your children's favourite possessions. When it's time to go out, pop the string over your shoulder and away you go.
Play Pouch encourages creative play and they are must-haves for every busy family!
For more of Erin's posts, click here
Keep up up-to-date with daily posts and upcoming news by following The Merry Go Round on  Facebook, Instagram, Twitter or Pinterest
Not sponsored
Comments