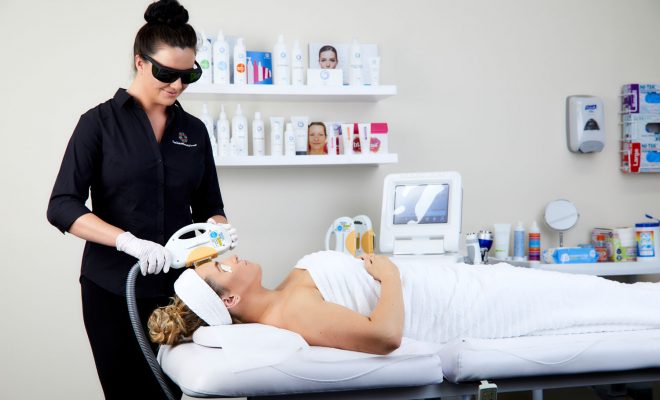 Beauty
Rosacea alert? How to get your skin out of the red
By
|
There's the cute form of facial redness: like blushing when the drop-dead gorgeous barista "accidently" brushes your hand when passing you your morning coffee, and then there's the stubborn, persistent redness of the rosacea and broken capillary variety that makes you want to flee to a hermit cave, never to be seen again.
Yes, persistent facial redness is a huge bummer, but it's certainly not the end of the world. It also may be comforting to know you aren't alone — millions of people worldwide suffer from rosacea, facial telangiectasia (spider veins) and skin redness, and many put it on par with severe acne when it comes to the psychological and social distress it can cause.
So what's a girl to do?
Identifying your triggers is a good place to start. Sun exposure and alcohol consumption are known to induce dilation of the blood vessels, resulting in facial redness. Other factors such as certain skincare products, certain foods and taking super hot showers can contribute to facial redness as well. Consult with a qualified skin therapist or dermatologist if you need help determining what your triggers are.
Being sun smart is your first step to reducing the risk of permanent skin redness, and it's never too late to start. Wearing a non-irritant SPF sunscreen and a wide brimmed hat when out and about in the sun, even on short trips, will reduce UV damage, and thus reduce the intensity of your redness woes.
Turn to technology
While there are all sorts of face creams and masks and remedies out there that offer temporary relief for rosacea and redness, your best bet for long-term results is technology. IPL treatment (IPL stands for Intense Pulsed Light) can effectively reduce tiny broken blood vessels (often found around the nose, chin and on the cheeks), that contribute to facial redness.
How does IPL work for facial redness?

IPL machines work by targeting the hemoglobin in the dilated blood vessels with wavelengths of intense light. The light is absorbed by the blood vessel, heating it to the point of destruction. The body absorbs the destroyed vessel and processes itself out of the body via the lymphatic system. Surrounding healthy skin and blood vessels are left unharmed.
For minor broken capillaries, one or two treatments may be all you need to ditch the redness, but for severe cases of rosacea several treatments may be required. While IPL will arguably offer the most dramatic results in your quest for a red-free face, maintenance treatments here or there may be required if symptoms re-emerge. A qualified IPL skin care machine specialist will be able to analyse your skin condition and discuss the best course of action for long-term relief.
Ultimately, there's no need to banish yourself to a hermit cave for the rest of your days if you suffer from embarrassing skin redness. Make a beeline to a trusted skin therapist instead and you can be rocking a clearer, more confident complexion sooner than you think.
For more of Brittnay's posts, click here
Keep up up-to-date with daily posts and upcoming news by following The Merry Go Round on  Facebook, Instagram, Twitter or Pinterest.
Comments