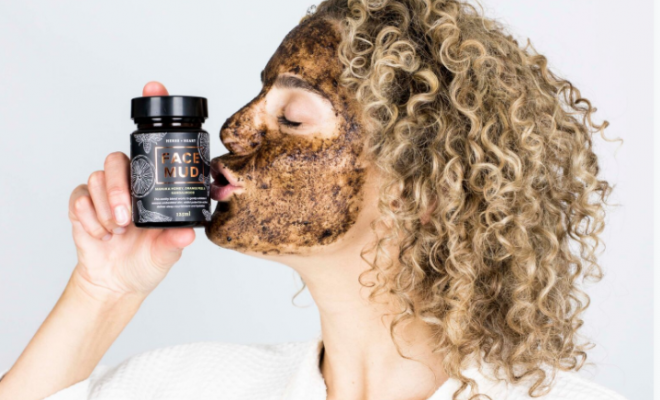 Beauty
Product Review: Herbs and Heart Face Mud
By
|
I am a big fan of keeping skincare as natural as possible. Whilst there are many brands that have no chemicals and eliminate nasties, it's hard to find products that really work and nourish the skin.
So, I am excited to introduce the Herbs and Heart Face Mud.
I love so much about this product and in particular, the glowing radiance from my skin after using it.
I use this Face Mud every 2-3 days. (As with all new products, I begin cautious and see how it responds with my skin)
What is it?
Face Mud is blended with the 3 elements of Manuka Honey, Orange Peel and Sandalwood.  When I first opened the jar I wasn't sure what I was in for; however, don't be put off by the thick black paste!  It spread onto my face very easily (keep your hands wet to keep it as a paste) and it smells delicious!
The application…
I left it on for around 5 minutes.  You can leave it on longer if you want to use it as a mask.  It is basically a combination between a cleanser, scrub and a mask (use as you please) so you are ultimately getting a 3 in 1 product.
While it was on, my skin felt cool and I took in the amazing scents.  Once finished, the product wiped off easily with some damp make-up pads.
The results were instant and from the very first use, my skin felt soft, clean and ultra moisturised….so indulged!  I followed it up with some moisturiser and it was still super soft the next morning. I even found my make-up applied much smoother the next day.
Why it is so good…
Making it even better is the fact that it is 100% natural with no nasties and cruelty free.  It was reassuring to know exactly what I was putting onto my skin.  All ingredients are sourced locally and manufactured in Australia as per Australian Cosmetic standards. I also loved that I can recycle the glass jar once I am finished.
Face Mud proved itself to be an affordable ($38.99), earthy blend that works to gently exfoliate and remove embedded dirt, whilst potent bio-actives deliver deep nourishment and hydration.
For more about Herbs and Heart and their great range (or even some great skin care tips), visit https://www.herbsandheart.com
For more of Erin's posts, click here
Keep up up-to-date with daily posts and upcoming news by following The Merry Go Round on  Facebook, Instagram, Twitter or Pinterest
Comments