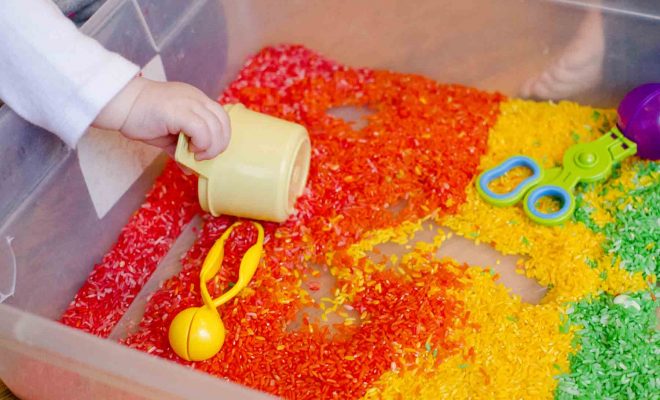 Busy Toddler
Parenting
Sensory play ideas for kids
By
|
Whether your kids are in the midst of school holidays or you have little ones at home with you, thinking of some play experiences to keep the little ones occupied can be challenging at times, especially once they tire of the same old toys that they have used over and over.
It can be very tempting to set up the iPad, phone or TV to babysit the kids (yes, I am guilty of this too, especially since baby no.2 arrived). However, as serene as the peace and quiet can be during screen time, it is advised that children do not spend long periods of time starring at screens…so pick your screen times wisely!
To help you fill some of this void I have put together a list of sensory play ideas that you might like to whip up or have ready to go when you need it. Sensory play has solid benefits:
Most kids love sensory play, like most play experiences it is a flexible medium and children can adapt it to suit their needs.
Sensory play can be enjoyed by a range of ages at the same time.
It can also be a very soothing and calming experience (great for the dreaded 4-7pm crazy hour), helping children release any tension and let their minds relax.
Now our days are warmer and the daylight longer, why not set up a sensory play area outside?  It'll help control the mess and ensure the kids get some fresh air and enjoy nature.
Most of these experiences can be made from things that you would probably already have at home, the others are from things that you can purchase easily. Before I had my second baby, I prepared a big collection of activities to have on hand when I needed to set up something quickly for my toddler. In addition to these I also created a "sensory play tub", which held most of the ingredients and materials that I would need to be able to prepare an activity in short time. So here I share with you the secret to my sanity (maintained with a big plastic sheet, towel or tarp to put over the floor or deck for easy cleaning)!
Rainbow Rice
All you need is a packet of rice and food colouring! You could just use plain rice, but creating a coloured variety takes a little time, but it's worth it. You can explore so many concepts, such as colour recognition, language expression and classification. It also develops the fine motor skill to pick up tiny grains of rice and sort them…but that's getting away from sensory play.
To colour the rice simply mix a little food colouring with water in a bowl and add the desired amount of rice. Give it a mix, and a soak for a few minutes. Drain off the water, using a sieve, and spread the rice over some paper and allow to dry. As I made mine at night (I wanted it done and away before the toddler tornado woke the next morning), I spread the rice onto a lined tray and dried it in the oven, set on a low temp, to speed the process up a bit.
Once your colours are all done you can mix them all together in a plastic tub, water play trough, or anything else you have at home.  Add some scoops, cups, spoons, funnels or whatever else you have spare.
For babies you can tip some of the rice into a clear plastic bottle and make a shaker for them.  If you use a rounded bottle it becomes a great crawling buddy, as your baby can push it along the floor. You can even add some bells for sound. For the big kids you could add some other little figurines etc. to create an Eye-Spy bottle.  There are so many possibilities, but let's move onto the next one before I get carried away!
Image- Busy Toddler
Water Beads
I love water beads! They are so relaxing just to fiddle with.  You'll need to prepare this earlier as the beads need time to expand in the water, (at least 4-5 hours or overnight).  To prepare you just need to sprinkle some beads into a bowl, jug or tub and cover with a sufficient amount of water. Don't worry if you have too much water as you can always drain it away later.  Once the beads are expanded they are ready for play.
To extend the play you can add some little scoops or cups to fill up, but most children are just happy to explore the texture with their hands.
The best thing about water beads is that they dehydrate after a few days, so you don't have to have wet beads sitting around.  If you want to use them again, just add more water.
Water Beads – Amazon
Magic sand
This sand has a variety of names, you may have heard of 'Kinetic Sand' or 'Moon Sand', you can buy it pre-made or there are plenty of recipes online if you want to make your own.
The sand presents the properties of wet sand, but it's dry!  You can shape it by hand or use special moulds (even jelly moulds are great).  Another additional play prop you could use is stamps.  Flatten out the sand and stamp away.  You can add all sorts of sensory props (similar to what you would add with playdough) such as beads, shells, sticks, feathers etc.

Magic Sand- Kmart
Water play
Water play is great, growing up as kids our version of water play was running around the sprinkler as it watered the grass. However, with water restrictions in place we need to think a little more creatively.  You can set up water play in so many ways, here's a few ideas:
A little water in the sink with some bottle brushes and sponges and plastic cups and plates (my toddler loves this…I hope she still shares this passion in about 15 years time)!
Some water in a baby bath with baby dolls and some wash cloths, towels and empty shampoo bottles.
Fill the bath or wading pool and simply add some water toys, funnels, boats, a water wheel or whatever you have at home.
Get some sand buckets and fill with water. Add some cheap paintbrushes and send the kids outside to paint the house!
Freeze some coloured water to make ice blocks and add them to some water and watch them melt….great for colour mixing…or painting in the bath.
To add another dimension to any of the water play ideas you could always add some colour, bubbles or glitter.
I've got more ideas coming next week, but for now, hopefully you enjoy creating these new and exciting experiences with your children, it is amazing what we can create with a little forward planning from the things we already have at home.
For more of Erin's posts, click here
Keep up up-to-date with daily posts and upcoming news by following The Merry Go Round on  Facebook, Instagram, Twitter or Pinterest
Comments