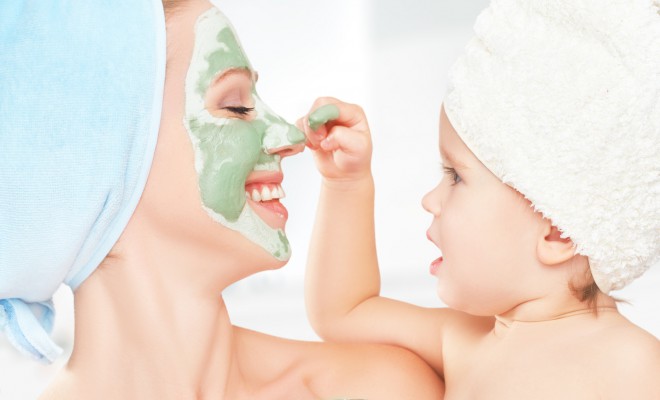 Beauty
Skincare tips for mums on the go
By
|
Too busy for skincare routines as a busy mum? This week Skincare Ambassador for The Global Beauty Group, Marina Juhas-Cucilovic gives us her tips for great skin when you're on the go.
We know that being a mum is a demanding, full time job that leaves little opportunity to look after numero uno, so the idea of dedicating time to a five step skincare regimen every day might seem a little laughable – but hey, mums deserve great skin too! Here's my top skincare tips when you're pressed for time.
Opt for a foaming cleansing gel
If you need to quickly yet thoroughly cleanse your face – a water based, foaming gel cleanser suited to your skin type is the way to go. Why? Foaming gel cleansers lather up speedily and are designed to get into every little pore to cleanse away dirt, oil and impurities. They also wash off super quickly and easily with nary a trace of residue in sight – so it's perfect when you have T minus 40 seconds to get the job done.
Follow with an antioxidant-rich moisturiser
Busy mums should treat themselves to a really good quality moisturiser – never compromise – as this is where you will have the chance to quickly nourish your skin with strategic ingredients to hydrate, firm and protect your skin against premature ageing. Look for moisturisers that are rich in vitamins and antioxidants to invigorate tired skin and hydrating oils such as almond oil to treat fine lines and seal in moisture.
Exfoliate… when you can
Okay I don't expect you to be exfoliating every day on your busy schedule, but if you can fit it in once or twice a week after cleansing and before moisturising, then it's going to make a huge difference to the smoothness, texture and vitality of your skin. This is because exfoliating removes build-up of dead skin cells to reveal newer, younger and healthier skin beneath. Failing to exfoliate can lead to congestion, uneven skin texture, dryness and fine lines looking more pronounced.
Take time out once a week
So you're probably not going to make it to the salon every week, but none the less it's important to take a little time out to give yourself some TLC. Drop the kids off for a play date or get dad to take the kids outside for a game of cricket – whatever the solution, just give yourself some time to relax and breathe as it will do wonders for keeping stress lines at bay! This is also the perfect chance to do a weekly anti-ageing masque to get that youthful glow back into your skin.
Both in and out of the treatment room, I recommend my clients use professional skin care brands like bt-Ceuticals™ range of face masques which are loaded with ingredients like skin brightening vitamin C or age-defying hyaluronic acid to beautifully transform tired, stressed out skin.
Don't forget the SPF 30
If you are taking the kids to the park, picking them up from school or running errands, never forget to apply a SPF 30 UVA/UVB moisturiser first, even if it's an overcast day. UV exposure is what brings on fine lines, wrinkles, pigmentation and loss of skin elasticity so if you are serious and keeping your skin looking younger for longer, don't ever miss this step!
For stockist info or more details on bt-Ceuticals™ face masques for your skin type, call 1300 006 607.
Remember to like us on Facebook
Follow us on Instagram and Twitter @merrygoround_au
And also follow us on Pinterest @MerryGoRoundau
Comments