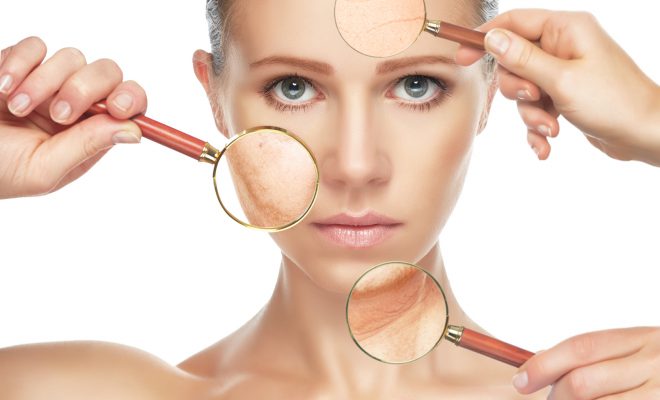 Beauty
The expert's guide to anti-ageing
By
|
Continuing on with my mini skin health series (if you didn't catch my article on treating pigmentation, click here), Marina and I are back to offer up expert tips on treating everyone's most niggling skin concerns – both from an everyday home skincare perspective as well as an advanced treatment therapy perspective, when you know it's time to go to the pros for a helping hand. Today we tackle our all-time favourite – anti-ageing!
Fighting wrinkles with skincare
Marina recommends…"Adenosine Triphosphate. Yes, I know that's a mouthful, so thankfully we also refer to it in the industry as ATP. ATP is the body's biocatalyst for all cellular processes, helping to restore and regenerate our skin cells to maintain smoothness, firmness and suppleness. Although ATP is naturally produced within our bodies, factors such as stress, diet, sun exposure and pollution slow it down…and so creeps in the signs of ageing.
So with that in mind, seeking out skincare products that can help supplement our levels of ATP places a very powerful anti-ageing tool in our hands. Ergothioneine is another powerful skincare ingredient that assists with ATP synthesis – combine the two and you have a recipe for beautiful, baby soft skin."
Fighting wrinkles with beauty therapy
Brittnay recommends… "I second Marina on her approach to anti-ageing with ATP – it's vital for the cellular health of our skin. The great news is that besides skincare products with ATP, you can also reap the benefits of this energetic coenzyme through LED (Light Emitting Diode) therapy. A LED Light Therapy Machine works to stimulate the natural production of ATP as well as collagen and elastin to produce younger, clearer and more radiant skin. Try a course of LED treatments and you'll definitely see (and feel) the difference!
My other favourite anti-ageing treatment are oxygen facials.  They detoxify and hydrate dry, dull and tired skin and plumps out those fine lines and wrinkles. The beauty of oxygen therapy is that results are both instant and cumulative – so while a one-off oxygen facial is the perfect revitalising makeover for a special day or big event, investing in a course of treatments will ensure cellular regeneration is consistently stimulated on a deeper level to reward you with radiant, wrinkle-free skin for the long run.
Lastly, we can't overlook IPL (Intense Pulsed Light) for its pivotal role in skin rejuvenation and combating the signs of ageing. While you might be familiar with IPL for its ability to permanently remove unwanted hair from the face and body (just like laser), IPL is also lauded for its ability to reduce fine lines and wrinkles and target other irregularities that add years to our face like broken capillaries, sun spots and acne scarring.
Whether LED, oxygen facials or IPL is best suited to you will depend on the intensity level of anti-ageing treatment required as well as your individual skin type (eg. sensitive, robust, etc.), time frame and budget; so my best advice is to chat to a knowledgeable skin specialist who can point you in the right direction!"
Find an IPL, LED or Oxygen Facial Machine in your area by calling The Global Beauty Group on 1300 006 607.
Keep up up-to-date with daily posts and upcoming news by following The Merry Go Round on  Facebook, Instagram, Twitter or Pinterest.
Comments