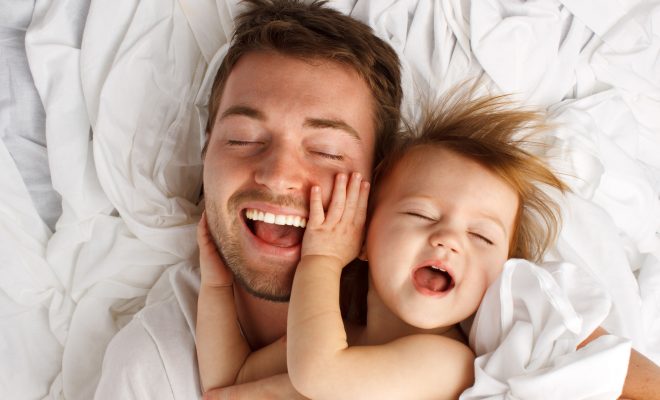 Beauty
The Modern Father's Day Grooming Guide
By
|
Mother's Day is generally about pampering mum, but come Father's Day ― dad is doomed to yet another pair of socks, silk tie, or fad electronic gadget that ends up in his garage sale bargain bin for fifty cents (O.N.O). This year, let's take a refreshing angle and give a gift that aims to unleash the dapper dad within.
Bob Dylan called it back in the swingin' 60s when he sung "the times they are a changin'" ― and indeed they are, if recent research by the Cosmetic Physicians College of Australasia (CPCA) is anything to go by. It turns out a whopping 75 percent of Aussie blokes now find it acceptable to have anti-ageing treatments ― that's a 25 percent increase on what figures from just a few years back in 2014 showed. And with the global men's grooming market predicted to reach $56 billion dollars by 2020, it seems the times are a changin' fast when it comes to perceptions surrounding male beauty.
So, what do men want?
The CPCA research revealed that the male beauty treatments on the rise include anti-wrinkle procedures, laser hair removal and non-surgical fat reduction. Spokesperson for the CPCA Dr. Catherine Porter suggested that men are increasingly taking these measures to boost their confidence for both personal, and professional reasons.
"We think one factor influencing men's attitudes is the realisation that many will need to remain in the workplace longer than they previously thought and they want to project a more youthful appearance, particularly if they are in the job market and think they'll have to compete with younger people," she explained.
How to dapper up dad this Father's Day
Is dad too shy to go shirtless at the beach due to a case of 'carpet chest' or love handles? Then a package deal of IPL hair removal or fat reduction treatments will get him well on his way to a Baywatch-style bod for summer. IPL, which stands for Intense Pulsed Light, is an impressively diverse medi-aesthetic technology that can not only permanently de-fuzz unwanted body hair, but also non-surgically slim down pot bellies and muffin tops using ultrasound waves to create a trimmer, more defined masculine appearance. IPL machines even offer skin rejuvenation treatments to reduce wrinkles and turn back the clock on UV damage from all the hours dad was out mowing the lawn without sunblock ― tsk tsk!
Some IPL machines are more advanced than others (i.e. not all offer ultrasound fat reduction), so to tailor the perfect Father's Day treatment package, get in touch with a local IPL specialist for further advice.
Another option is to go the high-tech facial route to give dad's coarse, rough male skin a new lease on life. I know a good handful of men who swear by microdermabrasion and hydrodermabrasion facials to freshen up their look. LED Light Therapy machine facials, which use therapeutic wavelengths of coloured light to renew and rejuvenate dull, ageing skin, are also increasingly popular with men as a youth-preserving measure, and a surefire way to get a radiant, healthy glow that screams 'Father of the Year' like it's nobody's business.
Need help finding a salon, medispa or clinic for your dad's day treatments? Call The Global Beauty Group on 1300 006 607.
For more of Brittnay's posts, click here
Keep up up-to-date with daily posts and upcoming news by following The Merry Go Round on  Facebook, Instagram, Twitter or Pinterest.
Comments