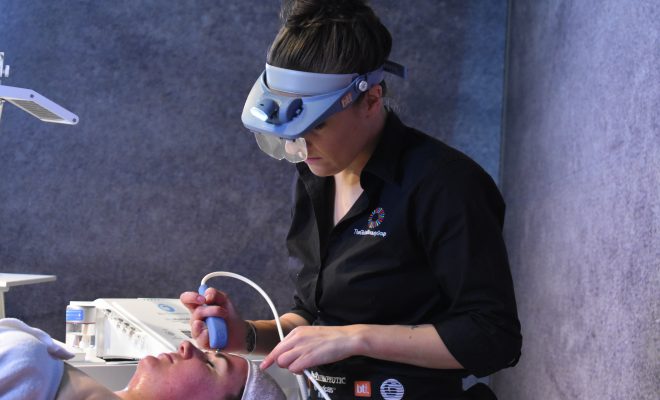 Beauty
5 questions you've always wanted to ask a Beauty Therapist
By
|
Beauty Therapists: we love them for their innate ability to primp and preen us to perfection when things have gone a little wild; and we envy them for the golden nuggets of beauty wisdom they hold in their perfectly manicured possession (no hate — they studied hard for it)! Plus, they get to work with all things beauty on the daily.
So, then, what if you got the opportunity to leave your inhibitions at the treatment room door and blurt out all the burning questions you've been too shy to ask each time your microdermabrasion appointment rolls around?
Well, that's exactly what happened when we got together with Brittnay Haines, beauty extraordinaire and Clinical & Training Coordinator for The Global Beauty Group. Brittnay kindly took time out her busy day to quell our curiosity once and for all. Here's what she had to say.
Okay let's dive straight into the juicy stuff. What's the number one skin concern clients come to you wanting help with? And why do you think this is?  
The number one skin concern is signs of ageing. I think the answer is simply that no one wants to age. We have beautifully preserved people splashed all over the media and in the public eye, demonstrating that our skin could — and should — be flawless at 40, 50, and even 60 years old. So, the moment our skin shows any sign of ageing, we begin to feel self-conscious.
 You've got amazing skin. Can you please share your skincare regimen with us so we can unashamedly copy you? Imitation is the best form of flattery, as they say.
 I try and keep things as simple as possible so that I don't get sick of doing it. Every morning I start with a quick cleanse, vitamin C serum and a serum high in sodium hyaluronate, which is amazing for hydration. At night I cleanse again and apply a serum high in hyaluronic acid (again, amazing for hydration). Once a week I add an exfoliant into the mix.
 Technology has well and truly taken over the beauty world — and it's delivering some pretty exciting results. Can you share with us your favourite high-tech treatment, and tell us why you love this treatment above all others?
I have the biggest obsession with oxygen facial machines. This is one of those treatments that not only feels amazing to have, but you receive both immediate and long-term results. Skin is automatically plumper, fresher, and the post-treatment glow is amazing!
In your professional opinion, what is the ultimate piece of beauty advice you're willing to share that everyone can benefit from?

Don't over complicate things. Everyone thinks you need a dozen skincare products and that you must have multiple treatments per week to have amazing skin. Sometimes the little things such as drinking at least two litres of water per day, having makeup-free days and picking one go-to product or treatment that makes you feel good, can really make all the difference.
You've got the insider info on movements and trends within the beauty industry. Can you tell us what's hot in beauty right now, and also where you think beauty trends are headed in the future? We want to stay one step ahead of the game!
Everyone is getting busier, so IPL hair reduction has been the go-to beauty trend for the last few years. Moving forward there are a few treatments and skincare products that I think are going to become far more popular. These are:
Carbon facials (Chinadoll facials) — Carbon facials use a laser to remove a carbon cream that is applied to the skin. It leaves the skin feeling smooth, clean and glowing. The bonus is you only need one per month!
Permanent makeup — More and more people are going to be getting permanent eyebrows, eyeliner or lip liner to avoid having to apply these on a daily basis.
Multi-purpose skincare products — There will be a rise in professional skin care products that tackle multiple concerns and makeup that also acts as your skincare. For example, tinted moisturisers that are infused with anti-ageing ingredients and include SPF protection. Innovative formulas like these save both time and money, eliminating the need to buy and apply various skincare products.
For more of Brittnay's posts, click here
Keep up up-to-date with daily posts and upcoming news by following The Merry Go Round on  Facebook, Instagram, Twitter or Pinterest.
Comments