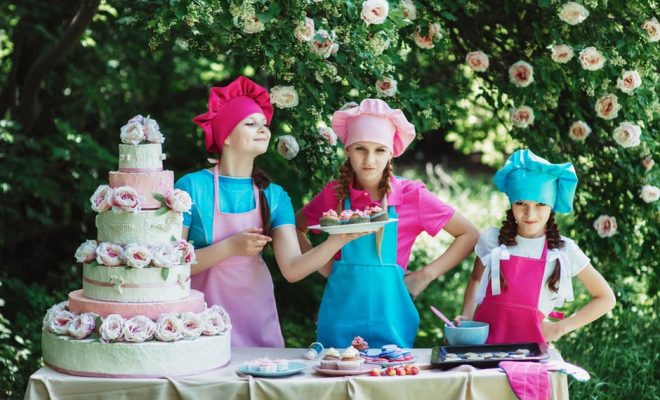 Parenting
More sensory play ideas for kids
By
|
A few weeks ago, we had Part one of my sensory play ideas for kids. Now it's time for Part two!
Playdough
Playdough is so much fun! It's fun and easy to make together or if you are time poor, you can quickly pick up some ready to go from the shops. Their little imaginations can just go wild when playing with playdough, you can have no props to add and there is still so many ways of moulding and shaping the dough to create what you want.
You can add kitchen props to promote "cooking" play, if your children have a little kitchen at home, consider taking away all of the plastic and wooden food, and get them to make their own with the dough. That will certainly get those little hands feeling and working the dough.
As mentioned in my last post, add props from nature, explore the textures and patterns that these objects leave behind. Even man made props such as glass beads, pipe cleaners, icy pole sticks are great because they all have different textures to explore.
If you want to add another dimension to playdough, consider adding sand, glitter or a scent. These are great ideas to change things up a little if your child plays with playdough regularly.
Soap Flake Slime
Kids love this! Warning: it can get messy, so make sure you have smocks handy…or at least be prepared for clothing changes! (Also it can be slippery on the floor or plastic mat, so make sure you do this on grass or have a big towel under foot).  This sensory experience is so smooth, it's really relaxing just to swish your hands around in or watch it run through your fingers.
To make this foam, you just need a box of lux flakes (or soap flakes) and some warm water. Of course you also need a tub and something to mix with.  I find the 'old style' manual egg beater or a stick blender is a great way of making it whip up nice and frothy.
Simply mix about 1 part soap flakes to 3 parts of warm water, and mix, mix, mix!! It will become frothy and thick.  The measurements are just a rough guide though. In my kinder teaching days we would just pour a bit in and see how it whipped up, you can easily add more soap or water depending on the consistency and size of the tub you are working in.
Another exciting element to this is that the consistency will change as it is played with.  Over time the frothiness will change to create a more slimy feel.  To add more sensory properties you can add in colour, glitter or hidden gems or shells.
This will keep a while if it stays clean.  When the time comes to discard it remember it is soap, so probably not too wise to pour it all down the drain at once or you'll have bubbles everywhere!
Finger painting in zip lock bags
This is so cool! It's like finger painting, only without the mess!!  My little one LOVES to paint, but she always seems to choose the most undesirable times to want to paint, like when I am about to put the baby to sleep, or start cooking dinner. With zip lock bag painting you need never worry about 'timing'again. It doesn't replace the great fun of finger painting, but it does help you out and avoid purple walls when you're a little preoccupied.
Simply get some ziplock bags, (the bigger the better, but it really doesn't matter) and fill with some paint. Obviously you want a good amount of paint in it, but don't over fill, as you want to be able to move the paint around, and have it thin enough to be able to draw patterns with your fingers.
Once you have sealed the bag, make sure you run some sticky tape around the edges, just for extra strength.  Then you are good to go. With smaller children it could be helpful to stick the bags to a tray or table to prevent it from moving around while they try to draw.
An alternative to paint is using hair gel with glass beads (anything as long as it doesn't pearce the plastic). For extra fun you can add some food colouring (colour the gel before you fill the bag) and glitter.
Oobleck
Oobleck is so easy to make. All you need to do (to make a bowl) is combine 2 cups of cornflour and 1 cup of coloured water together and mix (gradually add the water in case you don't need the full amount).
It's a great sensory experience, as the properties change as you play with it, it's not quite liquid, but also not solid. After you fetch a towel for cleaning up later, encourage your children to explore the different things they can do with their hands, see what happens when they squeeze it, poke it, try to pick up, or even push their hand down into it.  If you really wanted to have some fun, mix up a big batch and encourage children to put their feet in it!
Cooking
Cooking is such a great learning experience and children can learn so much about it.  There are great children's cooking books available to cook together, but even just involving your children in the everyday cooking is going to support their growing skills. Cooking is one of those experiences that can evoke all our senses sight, taste, sound, touch, smell…sometimes all at once!
Just from the ideas in the posts here you can cook playdough, or make your own paint or finger paint, get your children to help mix up a batch of oobleck or colour the rice.  Maybe you could make some pasta together during the day and use it in your dinner that night…spaghetti bolognaise anybody?
It might take a little longer to prepare the meal, but honestly if you have time and have done a little forward planning it's worth it.
Hopefully you enjoy creating these new and exciting experiences with your children, it is amazing what we can create with a little forward planning from the things we already have at home.
For more of Erin's posts, click here
Keep up up-to-date with daily posts and upcoming news by following The Merry Go Round on  Facebook, Instagram, Twitter or Pinterest
Comments