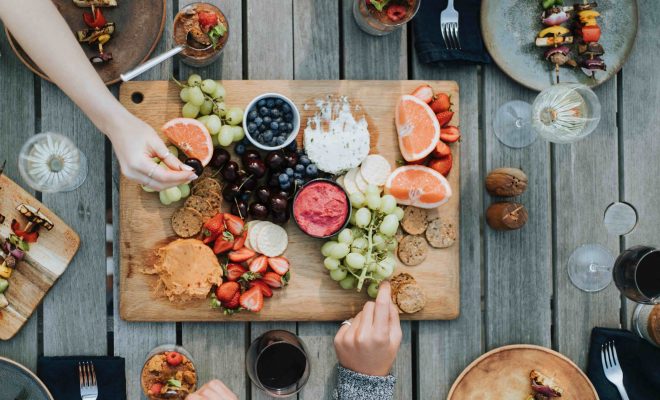 Lifestyle
Must-Try Long Weekend BBQ Treats
By
|
As much as I can go for a Vegemite sandwich all day, every day, it's not quite going to cut it when hosting a BBQ this long weekend! I've done the research and covered all bases – a delicious dish, salad, cocktail and treat the kids are sure to love!
Shrimp On The Barbie 
There's nothing better than prawns on a warm summer's day and these grilled prawn lettuce cups will make a fresh and delicious addition to your table!
Serves 4-6 (adjust ingredients for more guests).
Ingredients 
600g  raw medium prawns, peeled and deveined, tails removed
1⁄4 cup olive oil
2 small fresh red Thai chilli, stemmed and finely chopped
1 stalk lemongrass
1 small piece of ginger, peeled and grated
salt and freshly ground black pepper, to taste
4 small radishes, julienned
1 medium carrot, julienned
1 cup coriander leaves
1 cup Thai basil leaves
1 head iceberg lettuce, crisp inner leaves only, for serving
Sweet chilli sauce, for serving
Method
Combine prawns, oil, chilli, lemongrass, ginger, salt, and pepper in a bowl; toss to combine. Cover and refrigerate at least 4 hours or up to overnight.

Remove prawns from marinade and thread onto skewers; grill flipping once, until slightly charred and cooked through, about 3 minutes. Remove prawns from skewers and serve with radishes, carrots, coriander, and Thai basil leaves in lettuce leaves; drizzle with sweet chilli sauce
When You're Told To "Just Bring A Salad" 
Let's be honest, there's nothing worse than a boring salad that goes to waste. I love when people pack a punch with a salad and this green, roast beef salad with wasabi peas salad is no exception.
You could definitely sub out the beef for chicken or even Tofu for any vegetarian guests!
Serves 4-6 (adjust ingredients for more guests).
Ingredients
4-6 slices of roast beef
100g Vermicelli noodles
2 bunch broccolini
1 cup snow peas
2 baby bok choi
1 1/2 cup parsley leaves
1/2 cup mint leaves
1 cup wasabi peas
1/4 cup apple cider vinegar
1/4 cup olive oil
Method
Soak glass noodles in boiling water for 10min or until soft, rinse in cold water and drain well. Set aside.

Wash bok choi thoroughly, finely slice stalks and roughly chop leaves.

Blanch snow peas and broccolini, till bright green then plunge in cool water to stop over cooking. Slice beans and chop broccolini.

Tear up beef.

Toss all ingredients and top with wasabi peas.
Mojito, anyone?
Of course I'm including a cocktail recipe! Whether its an afternoon with the girls to a full soiree,  a beautifully crafted cocktail can truly set the tone for your event and leave people asking for the recipe. This grilled pineapple mojito is one of those cocktails!
Ingredients
4 limes, thinly sliced

1 bunch mint leaves, plus sprigs to serve

1 cup (250ml) white rum

2 tbs honey

1L (4 cups) soda water

Crushed ice, to serve
Grilled Pineapple
1 tbs each honey and white rum

Juice of 2 limes

1 pineapple (skin on), sliced lengthways into 1cm wedges, core removed
Method
For the grilled pineapple, combine the honey, white rum and lime juice in a large bowl. Add pineapple, turn to coat and stand for 10 minutes.

Heat chargrill pan over medium heat. Add the pineapple and cook for 1-2 minutes each side until charred. Transfer to a tray. Chill until cold. Set aside 8 pineapple wedges. Remove and discard skin from the remaining pineapple and roughly chop.

Divide chopped pineapple, lime, mint, rum and honey among 8 x 300ml glasses. Use a muddler or rolling pin to roughly bruise. Top each glass with soda water and ice.

Garnish mojitos with reserved pineapple wedges and extra mint. Serve immediately.
Edible Arts & Crafts
Your little guests are going to love creating their own Aussie Koala biscuits. With no baking involved, you can set up a station on your verandah and let the kids get creative with creating their sweet treats. This recipe is to create Koalas but by simply making a few different coloured bowls of icing and adding a few more lollies, you could have yourself a kangaroo and wombat in no time!
Ingredients
1 cup icing sugar

2 tbs milk

black liquid food colouring

8 milk arrowroot biscuits

2 tbs desiccated coconut

16 brown mini M&M's

8 black jelly beans

8 white mini marshmallows
Method
Sift icing sugar into a large bowl. Add milk gradually and combine to create a thick icing. Add 1-2 drops of food colouring very gradually until icing is desired grey colour.
Spread icing onto biscuits.
Sprinkle icing with coconut. Invert to remove excess.
Place two M&M's for the eyes and one black jelly bean for the nose. Cut marshmallows in half horizontally and position two halves for the ears.
Comments