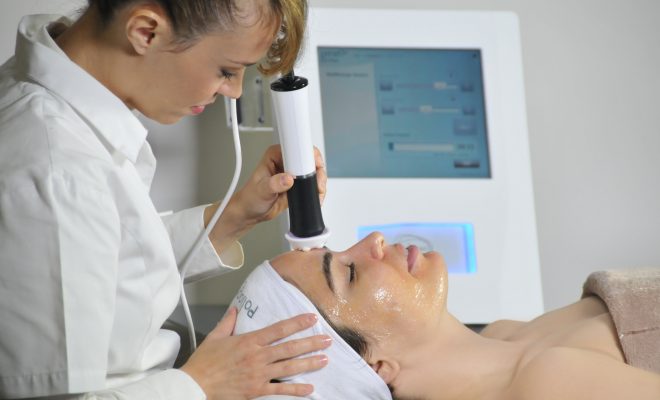 Beauty
We road test the Super Facial  
By
|
Is it a bird? Is it a plane? No — it's a Super Facial! And it's kicking old school facials to the kerb with triple action science to give you glowing skin from the inside out. Here's what you need to know.
What is it?
The Super Facial is the latest facial treatment popping up in spas and clinics, all thanks to a slim and sleek-looking piece of beauty equipment called the Geneo+. The reason the Geneo+ treatment is dubbed the 'Super Facial' is because of its ability to deliver three separate facial treatments into one short and sweet 30 minute session.
What are the three treatments?
Instead of spending hours at the clinic getting individualised treatments, you can now reap the benefits of an oxygen facial (which we've explored on the blog before), Radiofrequency skin tightening, and ultrasound dermal infusion — all in your lunchbreak.
And what are the benefits?
My aesthetician tells me this triple power facial will oxygenate my tired, stressed-out skin for an instant rejuvenating glow, exfoliate, plump and brighten my complexion for a more luminous look, reduce the appearance of fine lines, wrinkles and enlarged pores, relieve eye puffiness and replenish my skin cell metabolism for healthier skin moving forward. Let's just say you couldn't get me to the treatment chair fast enough!
The Super Facial experience
After a consultation to identify my skin imbalances and a thorough cleanse, all I had to do was lie back and let the magic begin. And I say magic, because my aesthetician then produced a wand-like handpiece which she fitted with a single-use treatment capsule. This capsule, she explained, contains sodium bicarbonate and citric acid which would interact with the nutrient-rich brightening gel that was applied to my skin (a formula that contains our skin's best friend — hyaluronic acid). Together with the vibrating handpiece, this creates an explosion of CO2 bubbles on the skin, causing the body to shoot increased oxygen to the skin's surface. At the same time, the epidermis is exfoliated and buffed, removing dead skin cells and purifying clogged pores. The result is instantly smoother, hydrated and more radiant skin.
Next, my skin is cleansed and more brightening gel is applied for the dermal infusion stage. This time the treatment capsule is exchanged for a massaging tip and my skin is deliciously massaged all over in circular motions. I'm told the massager uses Radiofrequency energy not only to stimulate collagen fibres, which in turn instantly tightens and lifts the skin for a rejuvenated, youthful look — but also regenerates collagen to rebuild skin suppleness and resilience to keep those wrinkles at bay for the long run!
How does it feel?
During the oxygenation stage I felt a warm, bubbly sensation as the CO2 had a dance party on my skin. You can really feel the blood flow stimulation, which no doubt contributed to my post-facial glow. The following dermal infusion massage felt great, and I could have happily lapped it up for a few more hours (if my aesthetician didn't have to kick me out for the next client).
And the result?
My skin was left beaming like a lighthouse on a pitch black night. Yes, the glow was real. Not only that, my skin felt smoother, firmer, intensely hydrated and plump — fine lines were all but gone and I looked refreshed and rejuvenated. Just several reasons why the Super Facial is a majorly popular pre-party treatment, my aesthetician happily informed me.
Do the effects last?
I'm told that a course of six treatments spaced at one week apart will deliver results that can last up to two years. But if you want your skin to stay on its A-game always, then a quick monthly maintenance treatment will solidify the anti-ageing benefits for the long run.
Call 1300 006 607 to find a Geneo+ Super Facial specialist in your area.
Keep up up-to-date with daily posts and upcoming news by following The Merry Go Round on  Facebook, Instagram, Twitter or Pinterest.
Comments